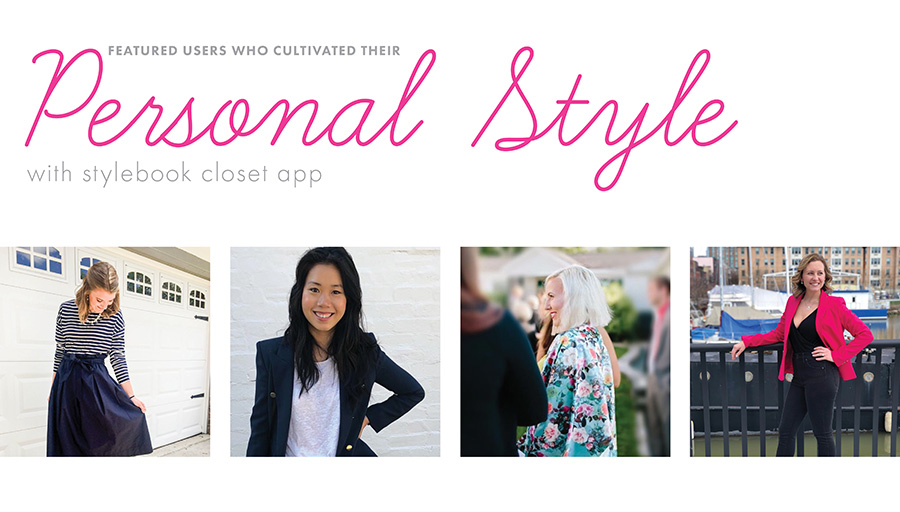 "Fashion is about dressing according to what's fashionable. Style is more about being yourself." — Oscar de la Renta
Personal Style Journeys of Stylebook Users
The most stylish women don't dress like anyone else - their outfits reflect their unique personality and lifestyle. Over the years, Stylebook customers have emailed and posted about how the app has helped them hone their unique look and we wanted to say thanks by featuring some of you!
Below are some dedicated Stylebook users who have cultivated their style over time using the app. They all stand out from the crowd in different ways and we wanted to share their unique style journeys with you as inspiration! Below are quotes from our featured users about how Stylebook has changed the way they get dressed.
Nina Garcia once said in Marie Claire, "Building a well-balanced, versatile wardrobe takes time and thought. It isn't a sprint - it's a marathon." As Nina said, it's a journey to discover who you are stylistically and we hope everyone finds their unique voice. Style can't be given to you - it's something you develop over time inside yourself!
Stylebook is a closet app that provides insight into your wardrobe to help you develop your personal style. As you save your outfit ideas and plan what to wear, the app generates statistics on how you use your clothes. The 22 separate stats the app calculates make it easy to learn about your wardrobe - like which pieces are being neglected and which pieces you gravitate towards the most. As a result, the app reflects your unique style. The longer you use it, the more in-tune with your style you become!
Share your personal Stylebook journey with us by using #stylebookapp on Instagram! You could be featured next!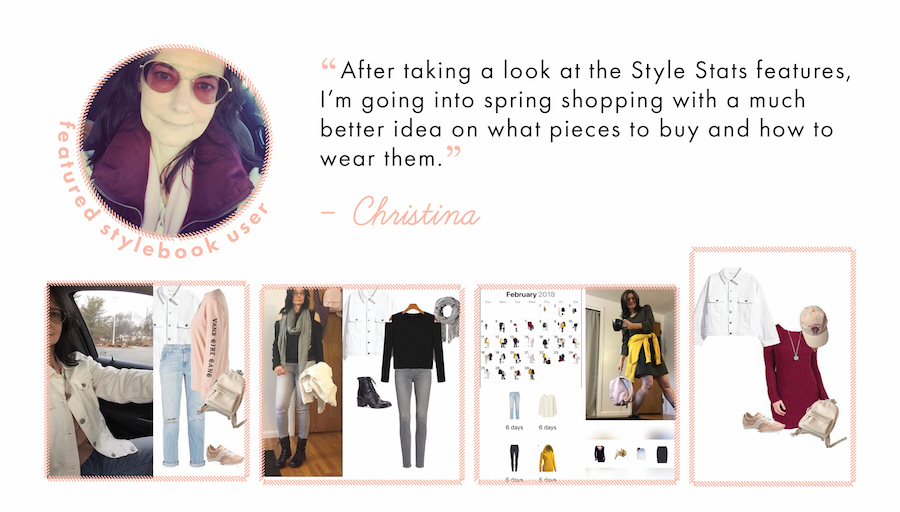 "I didn't think I had any clothes in my closet that looked 'stylish' or even what my style might even be until I found the Stylebook app! I took pictures of what was in my closet and was able to put together a different outfit every day this month without buying a thing. I've never gotten so many compliments.  After taking a look at the Style Stats features I'm going into spring shopping with a much better idea on what pieces to buy and how to wear them. I have never spent less time looking and feeling this good in the morning. It's taken me 50 years of life to feel good about wearing clothes and your little app has changed my world (not kidding!) I can't say enough good things about Stylebook!" - Christina
Follow her at @bliss4glory
Visit her blog, Bliss4gloryfashion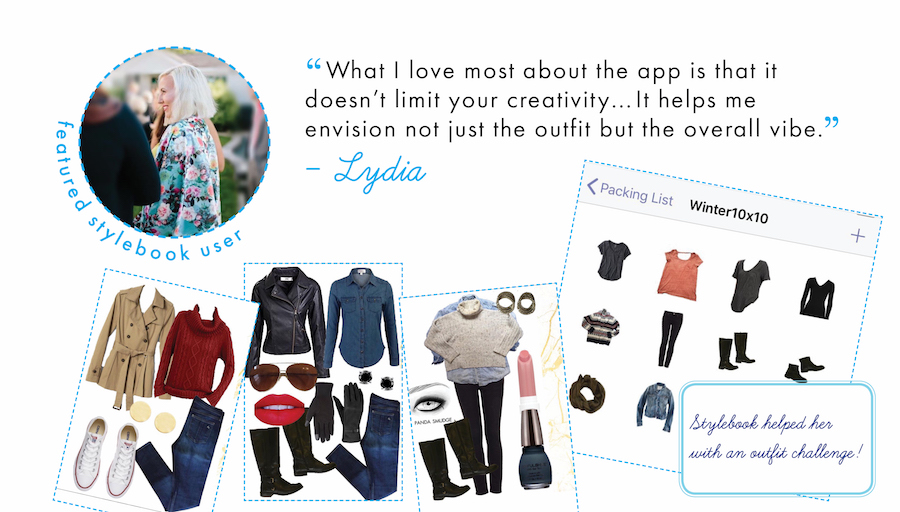 "What I love most about the app is that it doesn't limit your creativity. In addition to my clothes, I've also uploaded lipsticks, hair styles, and nail polish. It helps me envision no just the outfit but overall vibe." - Lydia
Follow her at @squidcloset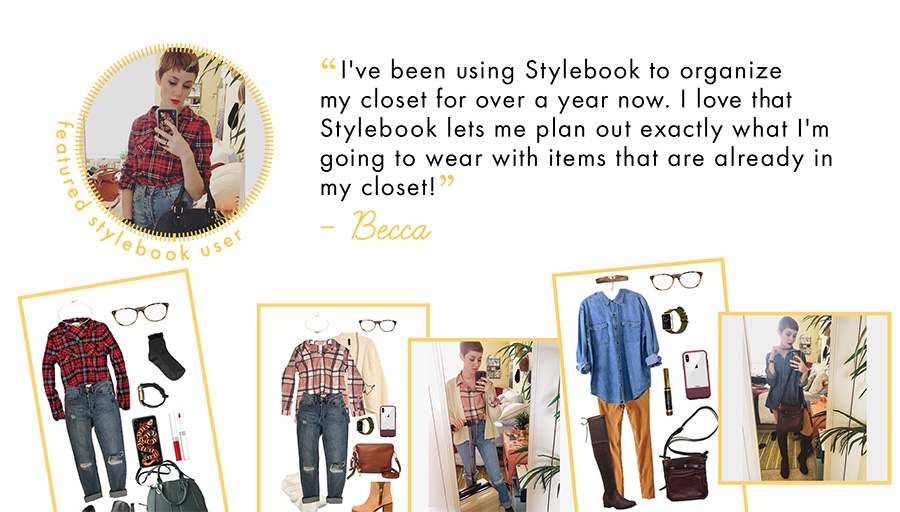 "I've been using Stylebook to organize my closet for over a year now. I love that Stylebook lets me plan out exactly what I'm going to wear with items that are already in my closet! Just the other day, I was able to whip out my phone to find out if I had anything that would match a hat I was looking to buy at a store. It was so helpful to have it all catalogued in my hand! Every woman deserves this power!" - Becca
Follow her at @petitelittlebee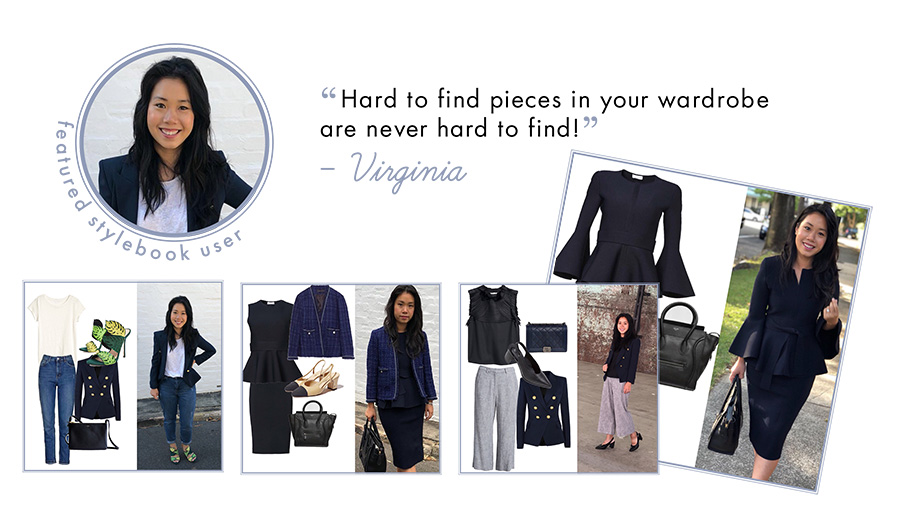 "I pulled together my Casual Friday look from the four corners of my wardrobe between Thursday's back to back work meetings using Stylebook app. It can sometimes be the only moment of total control in an otherwise unpredictable day! Hard to find pieces in your wardrobe are never hard to find!" - Virginia
Follow her at @whatveewore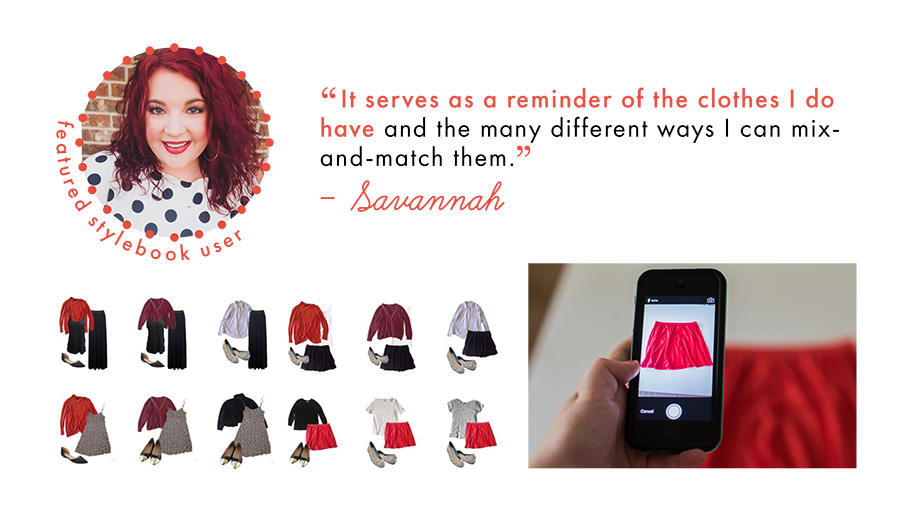 "I used to walk into my closet and think, "I have NOTHING to wear!" Fortunately, Stylebook app changed that for me. It serves as a reminder of the clothes I do have and the many different ways I can mix-and-match them. Instead of JUST seeing that black and white dress on the hanger, I can see the different shoes and different cardigans I can use to completely change that same dress into many outfits." - Savannah
Follow her at @savannahsmiled
Visit her blog, Savannah Smiled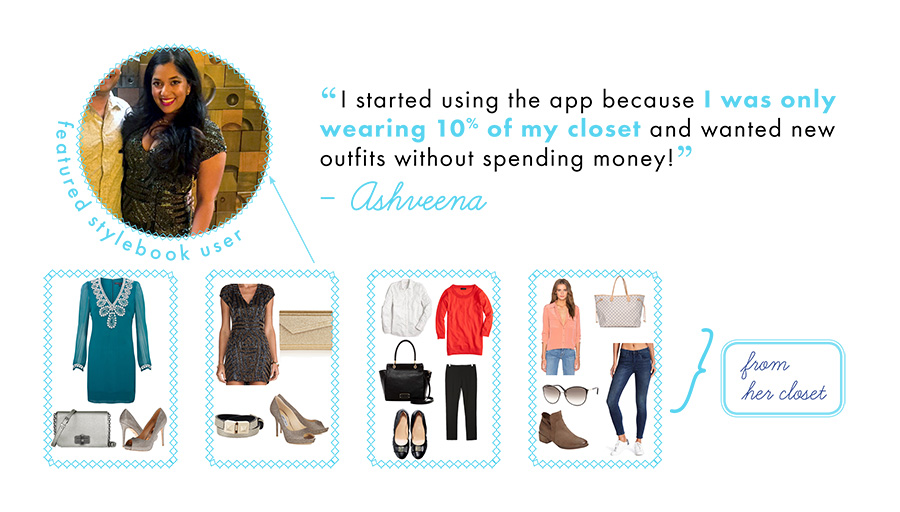 "I started using the app because I was only wearing 10% of my closet and wanted new outfits without spending money! I plan new outfits or go through old clothes when I'm bored and now wear almost all of my closet. The app helps me not outfit repeat, which Is easy to do in rainy Seattle." - Ashveena
Follow her at @ashveena
"Style is something each of us already has, all we need to do is find it." —Diane von Furstenberg