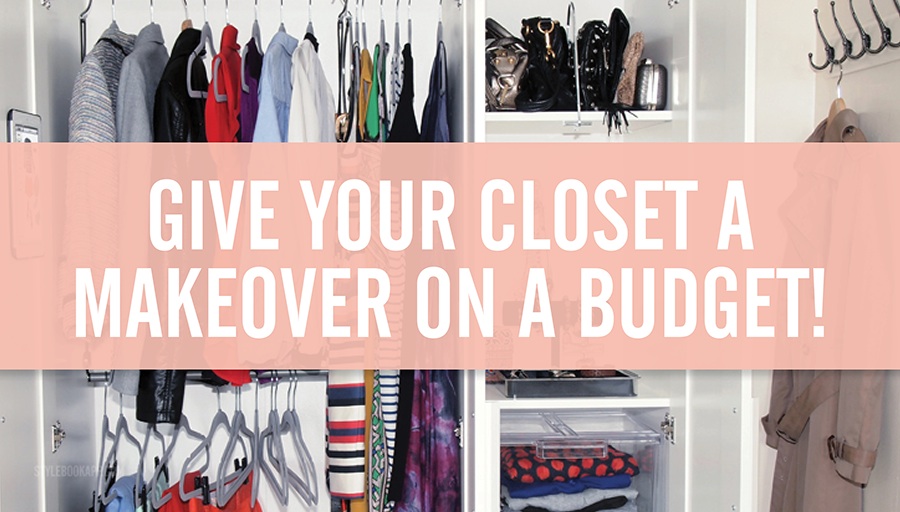 Closet Makeover: 9 Tips To Make Over A Small Closet On A Budget
Creating an appealing, organized and functional space for your wardrobe doesn't require the budget for custom built-ins. This guide will help you save space and display everything you own so it actually gets used. The best part? The grand total for everything will be less than $250!
1. Purge!
You'll be much happier when you get dressed if everything in front of you is something you'll actually wear. Your old sweatshirts and the ugly bridesmaid dresses you convinced yourself you'd wear again definitely don't belong in your new fabulous closet - get rid of them!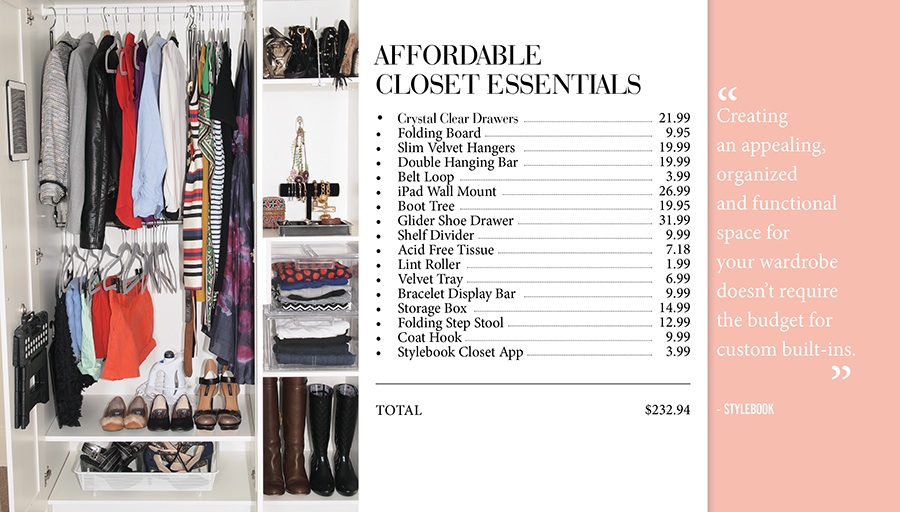 2. Make Your Foldable Clothes Easily Accessible
What You Need:
The folding board will help you make neat, even stacks of sweaters. The clear drawers make it easy to see what each drawer contains. Keeping everything visible makes it less likely that clothes that are on the bottom of the pile will be neglected. It also helps keep your drawers nice and neat, since you won't need to dig around to find what you're looking for. If you find the drawers slide around when you open them, try using 3M Velcro Command Strips to hold them in place.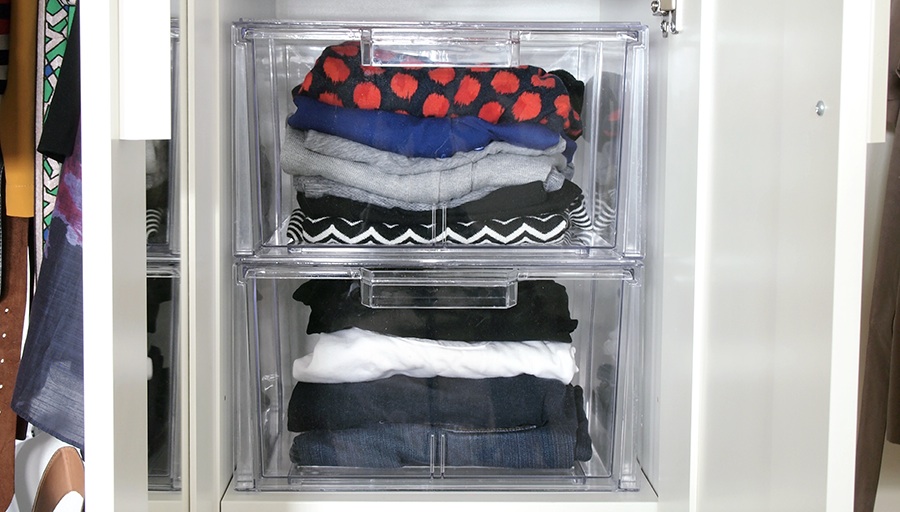 3. Maximize Your Hangable Space
What You Need:
Double your hanging space with a narrow double hanging bar (no assembly or drilling required!). This will guarantee that you can hang a row of tops, a row of bottoms, and still have room for longer dresses on the side. Also, use slim velvet hangers - they save space and prevent your clothes from sliding off.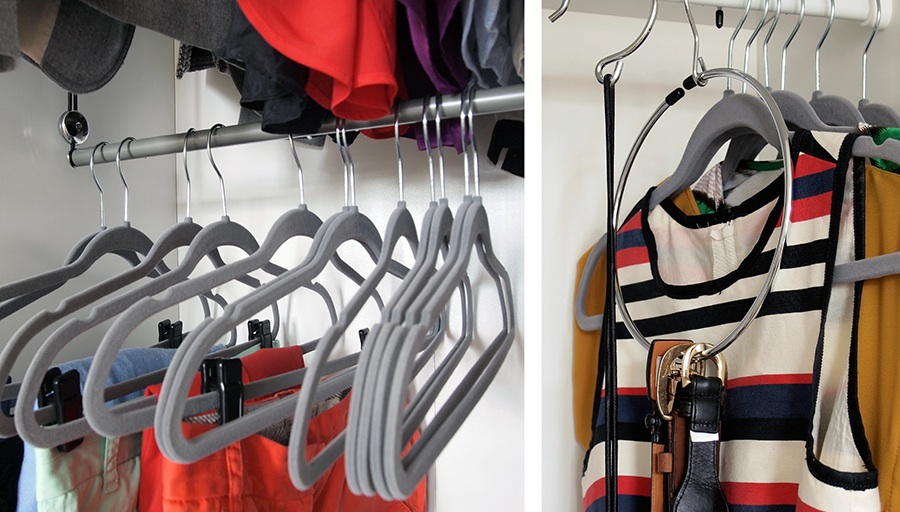 4. Ditch The Inspiration Cork Board and Make a Digital Closet Archive
What You Need:
Dig your old iPad out of the junk drawer and transform your closet into a wardrobe management hub! Use a wall-mount to install it where you would normally put an inspiration cork board (the back of the closet door is a great place). Before you get dressed in the morning, search your outfits or browse your style inspirations. Having an easily accessible record of your outfits will help you have more good outfit days - even if you wake up late! Take it from Vogue Australia, who called Stylebook "a must for Cher Horowitz types."
Tip: Send the outfits, clothing items, and style inspirations that you've already saved on your iPhone to the iPad using Wifi Share. You can send entire categories at once to save time!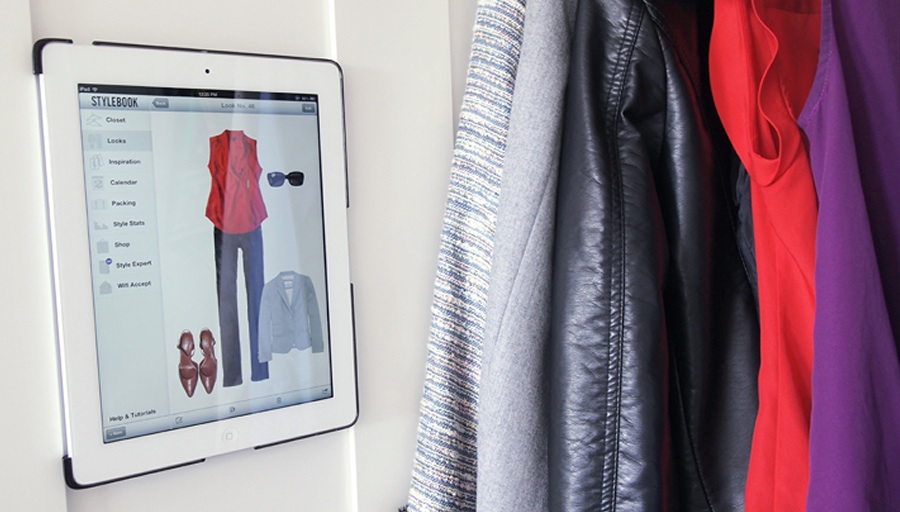 5. Make A Shoe Cubby
What You Need:
Help your boots maintain their shape and save space by using boot trees. The shelf at the bottom of the Ikea Brimnes wardrobe (what we're using as our closet) is narrow and deep. At first glance, it doesn't appear very useful, but take advantage of the depth by installing a glider drawer which will let you store shoes all the way in the back and still reach them easily.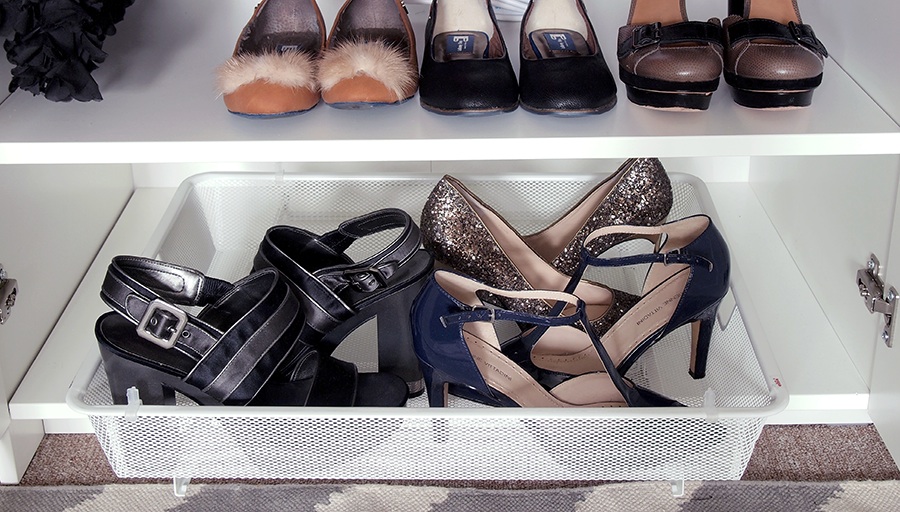 6. Give Your Handbags The Top Shelf
What You Need:
When you have a bag that's out of rotation, store it on a top shelf in the closet - but before you put it up there, clean it! I like to use a lint roller inside the bag and then condition the leather with a special cleaner I bought at Coach. Make sure it maintains its shape by inserting some sheets of acid-free tissue. If they won't stand upright, use a shelf divider.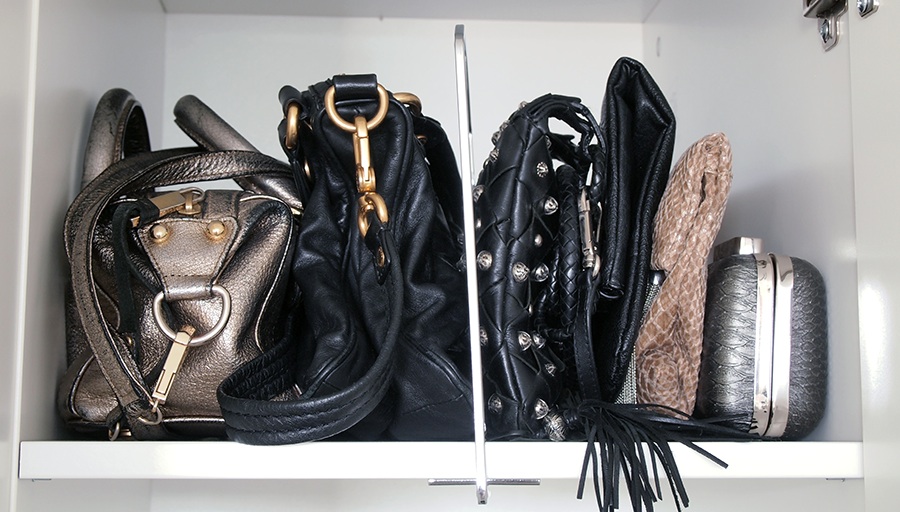 7. Display Your Jewelry
What You Need:
Display your jewelry as you'd see it in a store. Even if you have a small collection, consider purchasing jewelry displays and velvet trays with dividers. The velvet prevents the jewelry from sliding around and the compartments on the trays prevent tangles. Use small hooks to create a space for necklaces on the back wall of the wardrobe.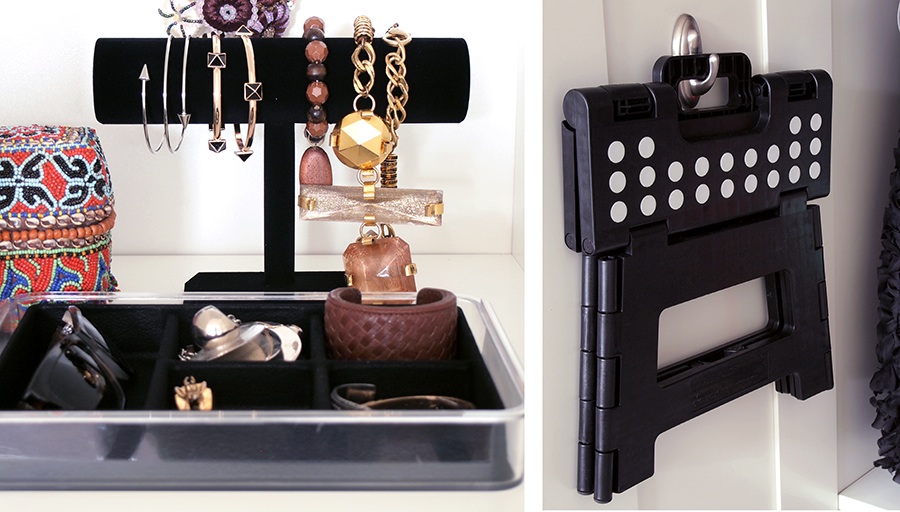 8. Store Your Seasonal Clothes
What You Need:
Keeping your seasonal clothes in the attic or garage is bad news because of moisture and potential pests. Take care of your wardrobe by buying a nice box and stacking it on top of the wardrobe. It should fit even if you have low ceilings and it will free up space in the wardrobe so you're only looking at what you'll actually be able to wear. Don't forget a step stool so you can actually reach up there!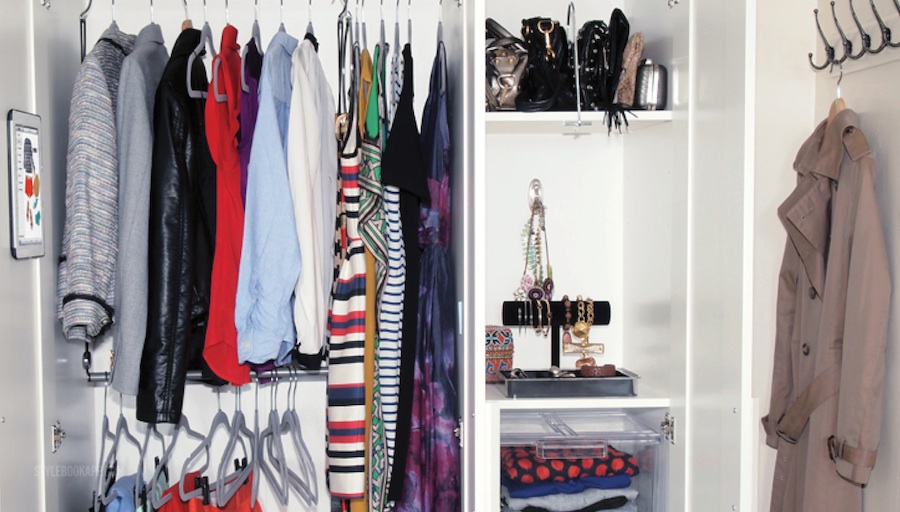 9. Get Your Outerwear Outta There!
What You Need:
If you're working with a tiny closet, I strongly recommend that you store your coat(s) outside of your clothing closet. They take up too much space and you wear them a lot anyway, so leave them on a hook outside your closet during the winter and store them with seasonal clothes when it's off season.
NOTE: Posts in the Style Guides series include affiliate links to some of the products discussed. Stylebook receives compensation for purchases made through links to affiliates.
GET THE APP
Read More Style Guides