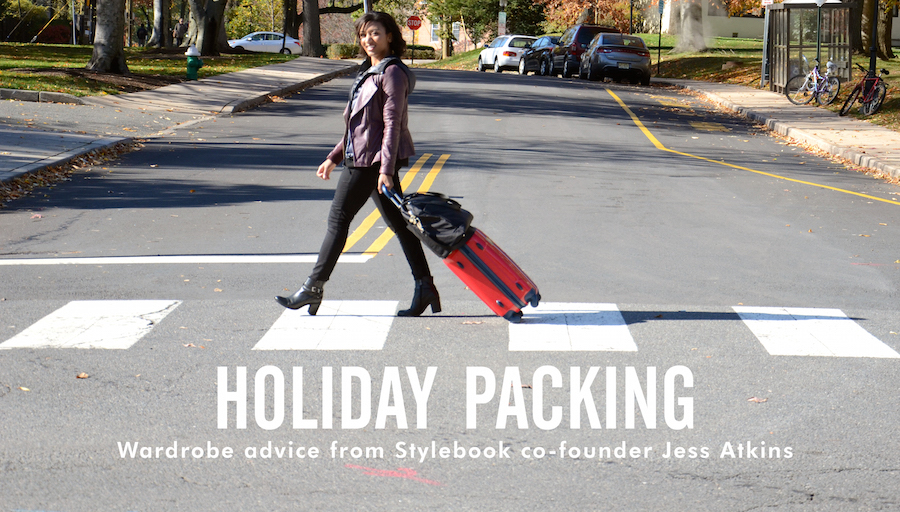 Packing for the Holidays: What to Bring for a Week at Home
If you're going home to visit family for the holiday, there's a good chance you're going to be spending a lot of time hanging out around the house. While comfortable clothes are a must, there's no need to resort to wearing pajamas all day.
When I head home for the holidays to visit my parents, I know we'll mostly be hanging out around the house - and of course having a holiday meal. Ideally, I'd like to be comfortable enough for home without having to feel underdressed if visitors arrive or we end up going on an unexpected outing.
I've put together a packing list that's both comfortable AND cute. Oversized sweaters, super soft knits, and my favorite down vest are comfortable for lounging around the house, but still look nice enough to run out to the mall.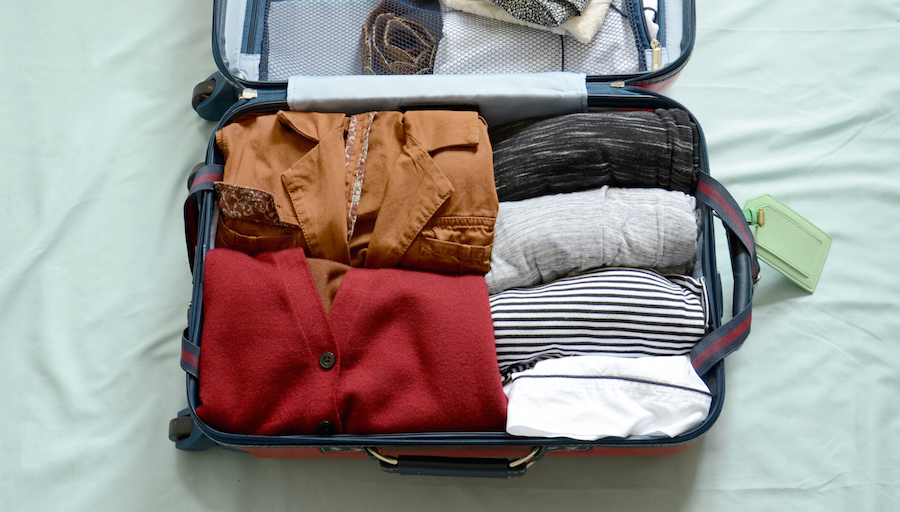 Below are the items I'm bringing for my trip. Since the t-shirts are very thin, I simply stack them three at a time and roll them up, as in the picture above. I also wear my down vest, leather jacket and boots on my travel day to save suitcase space. The only bulky piece I'm bringing is my huge knit scarf, so although I have a lot of items, they fit easily inside my carry-on bag.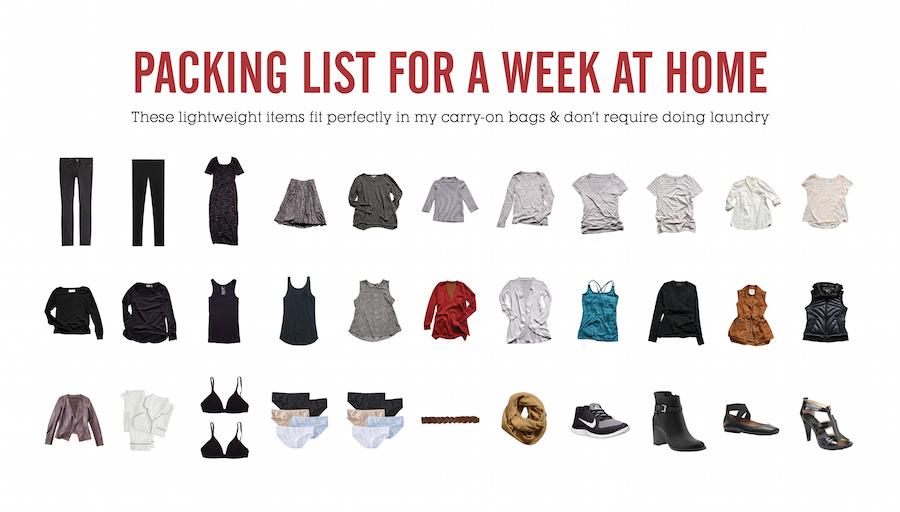 My Holiday Packing List
Pants
1 pair of stretch jeans
1 pair of thick leggings
1 pair of workout pants
Dresses & Skirts
1 knit maxi dress
1 print skirt
Tops
3 long-sleeved t-shirts
2 short-sleeved t-shirts
1 button-front blouse
1 short sleeve blouse
1 fancy sweatshirt
1 pullover sweater
2 ribbed tanks
1 sleeveless blouse
3 cardigans
1 workout top
2 vests
1 leather jacket
Accessories
Shoes
1 pair of ankle boots
1 pair of ballet flats
1 pair of heels
Underwear
PJ's
Choosing What to Pack
When packing for a week at home, comfort is your number one priority, but that doesn't mean you have to look sloppy. The following items feel like pajamas but never fail to function like actual clothes: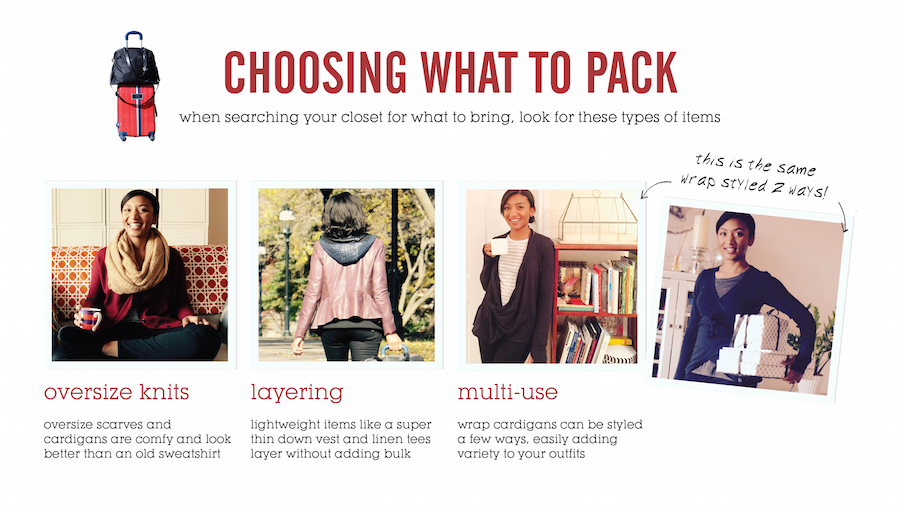 Wrap Cardigan overnight bag carry-on suitcase
Oversize Knits: Oversize scarves and cardigans are comfy and look better than an old sweatshirt. Just make sure you wear fitted bottoms.
Jeans with Stretch: I'm in love with the GAP's legging jeans because they're stretchy but don't look any different from their regular denim styles. They are jeans that feel like leggings, rather than leggings that look like jeans.
Thin T-Shirts: You know those super thin t-shirts from J.Crew? Bring a lot of them. They take up virtually no space in your suitcase and can be layered without making you look like you have muffin top. It's also good to pack a thin down vest like those from Uniqlo. You can wear them around the house if you feel chilly and they're great for layering under a lighter jacket on your travel day.
Outer Layers: Pieces like vests can be worn many times without washing, so they're ideal for your trip. And if you have a wrap cardigan, bring it! You can wear it more than one day and no one will even notice since you can style it so many different ways.
Creating a Packing List
If you're just getting started with Stylebook and haven't imported any of your clothes yet, start with the items you're taking on your trip and create a new packing list containing those items. Having a visual list will help you keep track of what you're bringing and you can save your outfit ideas. That way you won't forget how you planned to use the clothes you brought.
If you already have your clothes imported into the app, you can create a last-minute packing list from anywhere. Simply add your outfits to a new packing list and Stylebook will create a checklist of the individual clothing pieces you need to create those looks.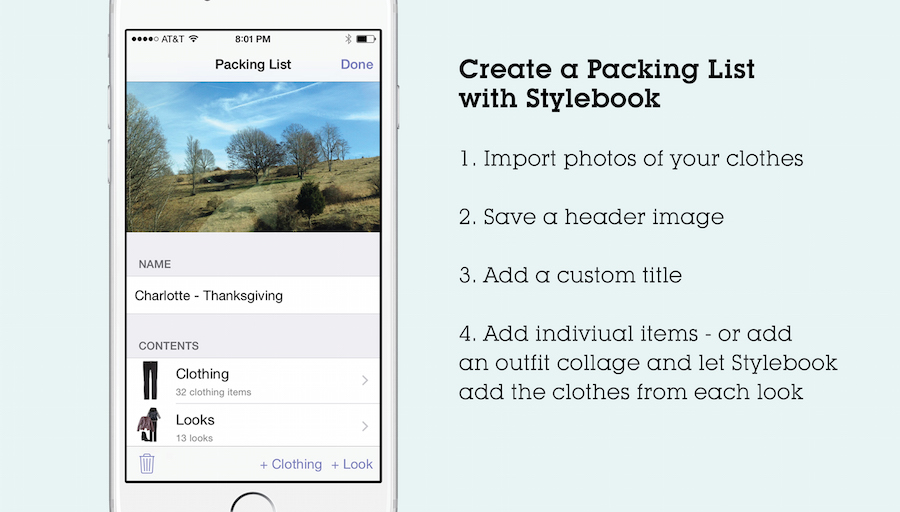 Space Savers
The following items can help you save space when you're packing your suitcase:
wrap cardigan - can be worn wrapped or as draped cardigan
sneakers - can be worn to the gym and for running errands
sleepwear - re-wear your PJs at least once
bottoms - wear one pair of jeans on your travel day and bring one other pair with you
ballet flats - these look good with basically every outfit and they don't take up much space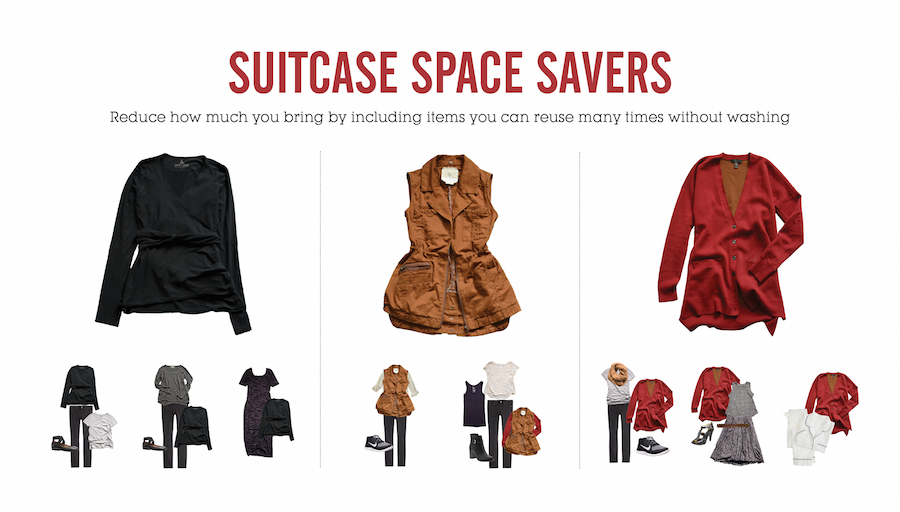 How Your Items Work Together
Another important factor when choosing clothes is selecting colors and patterns that work well together. Pick bottoms that work with all the tops you bring, and make sure your layering tops are in the same color family so they can easily mix and match. Save your standout colors for your outer layers like jackets, scarves and sweaters. Keep the inner layers basic.
Packing Checklist
As you pack your suitcase, use the Stylebook checklist feature (at the bottom of your packing list) to tick off each item as you put it in your bag. You'll know you have everything and you'll be able to make all the outfits in your packing list once you reach your destination!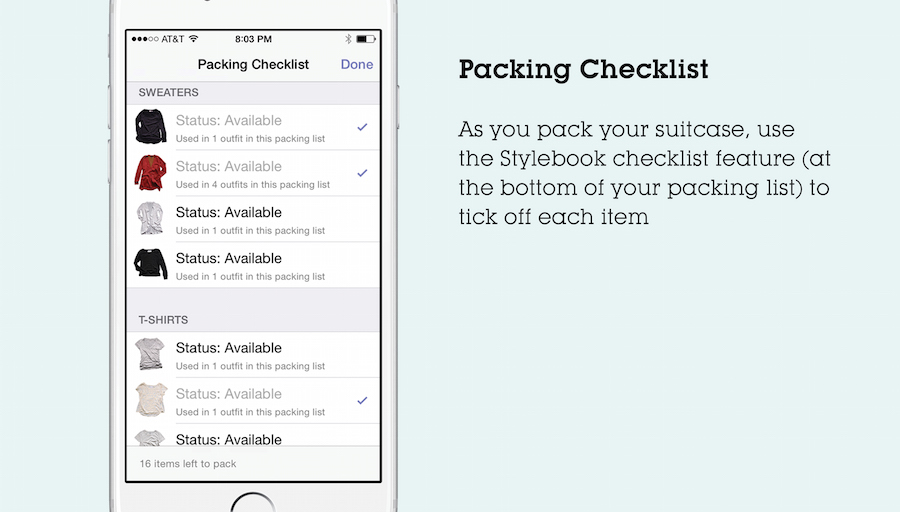 Outfits
The checklist at the beginning of the article creates 13 outfits (including one workout outfit that isn't pictured). I also included a slightly dressy holiday outfit since we may have guests over for Thanksgiving dinner. The rest of the looks are designed for lounging and casually hanging out - in other words, for comfort! I only packed three sleep looks since I usually re-wear PJs. My travel day outfits are both the same but I just change my t-shirt.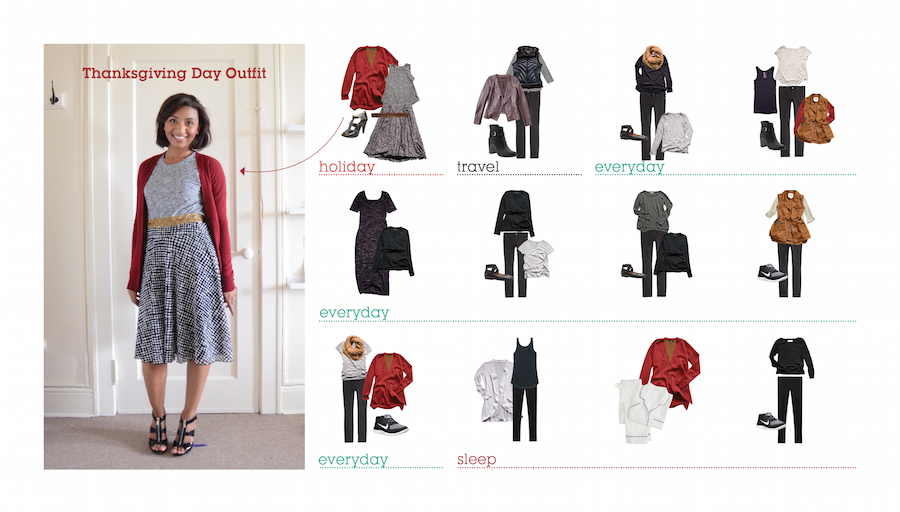 Layering the Basics
Piling on thin, cozy layers over stretchy jeans is way more flattering than wearing a huge fleece over leggings, but equally as comfortable. Layered looks can also come in handy since both indoor and outdoor temperatures can be different from what you're used to. Some of my favorite layered outfits are:
2 or 3 super thin T-shirts of different hem lengths
A racerback tank over a long-sleeved tee
A vest over a cardigan to make a faux jacket
A long-sleeved tee under a cropped fancy sweatshirt
A multi-strap tank top under a boatneck sweater
A thin vest under a leather jacket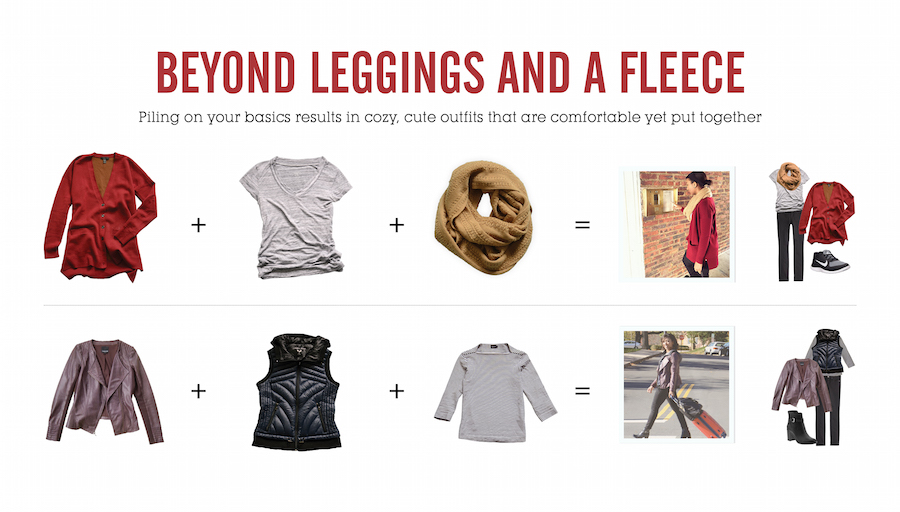 How To Mix and Match
When you're creating your outfits, there are a few tricks to help make your outfits more interesting. If many of your pieces are neutral, your outfits might feel a bit boring. Try mixing the textures and patterns to add interest. Here are some combinations that work well together
One patterned top with two different textured outer layers
Two different patterned inner layers and a textured outer layer
Three layers that are all different textures
Adding an interesting outer layer, like a leather jacket or bright sweater, can also elevate a basics outfit.
Structured vests can add waist definition
A long vest or cardigan can cover your backside if you decide to wear leggings
Introduce color or texture to your look with an outer layer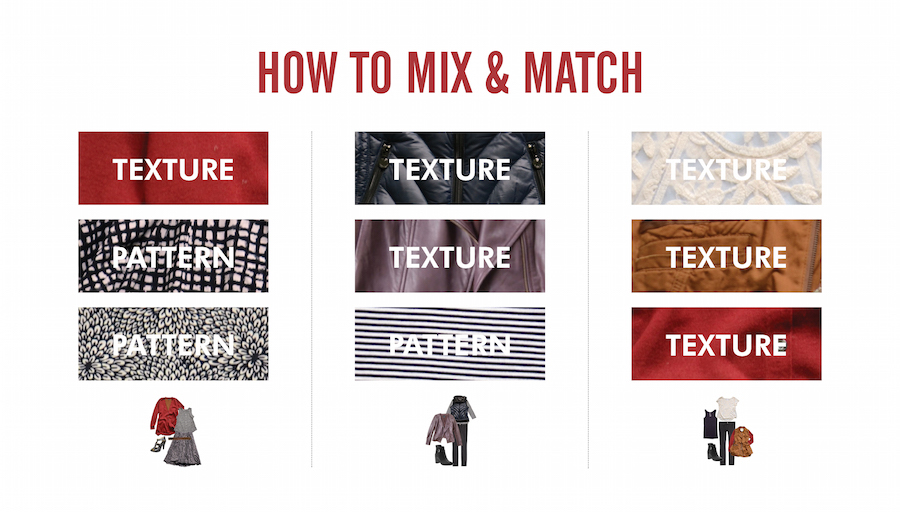 Calendar
Make sure you have enough outfits without overpacking by planning what outfits you'll wear each day of your trip using the Stylebook calendar. Assign a look to each day and even make styling notes on the calendar entry.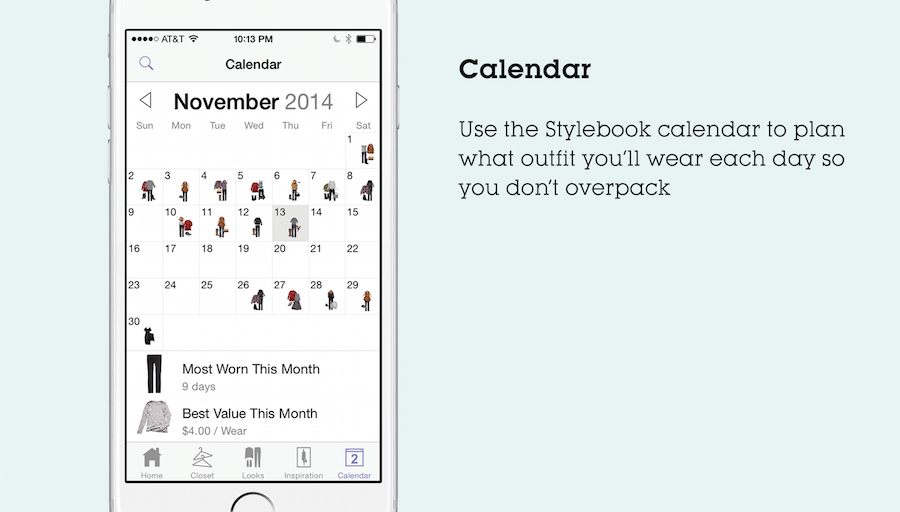 I hope these tips help you pack stress-free, yet still end up with comfortable clothes for your holiday trip.
Have a fun and Happy Holiday Season from all of us at Stylebook!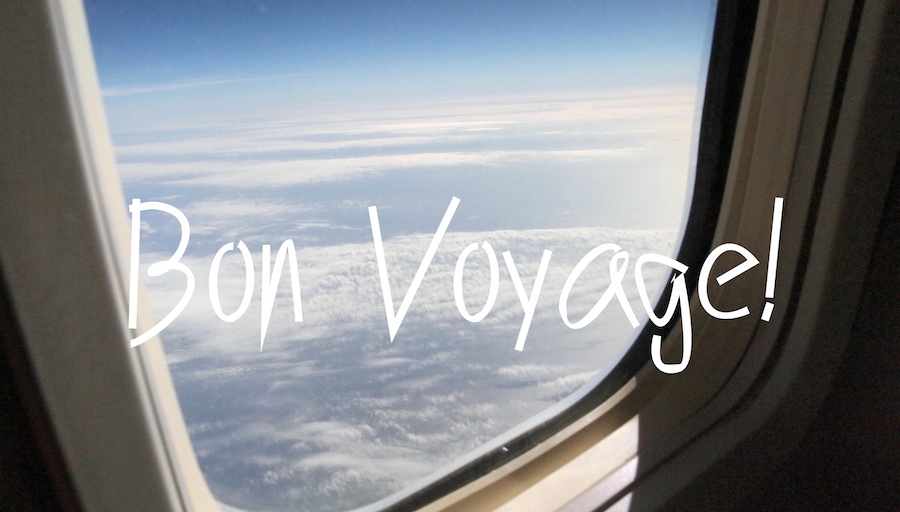 NOTE: Posts in the Style Guides series include affiliate links to some of the products discussed. Stylebook receives compensation for purchases made through links to affiliates.
GET THE APP
Read More Style Guides