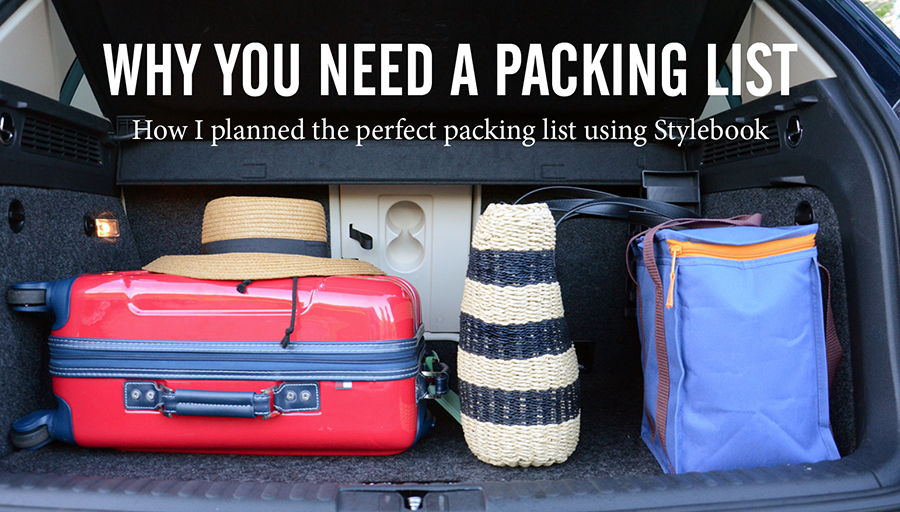 How To Pack With Stylebook: Planning and Creating a Visual Packing List
I used the closet app Stylebook to keep a visual packing list of both my clothes and outfits on my recent roadtrip to Savannah, Georgia, using photos of my real clothes. Planning what to pack on my phone ensured that I actually used everything I packed, gave me a quick list of everything I'd needed to bring, and allowed me to get dressed faster because I saved my outfit ideas. It also helped me avoid packing too-similar items, which can be a huge waste of luggage space. Here's how I made the perfect packing list, plus a few tips on how to choose the best clothes for your next trip.
Two Strategies to Decide What To Bring
Instead of cramming a bunch of clothes into your suitcase with no planned purpose, think of complete outfits for each travel day - then you'll know that you have enough clothing for the entire trip. If it seems hard for you to commit to what you'll wear in advance, don't worry: I'll show you how to choose your clothes carefully so you can always mix and match your items at your destination. There are two ways to come up with the outfits you want to bring - I usually do a little of both. Definitely plan your outfits in advance, but remember to keep flexible, since no trip is 100% predictable.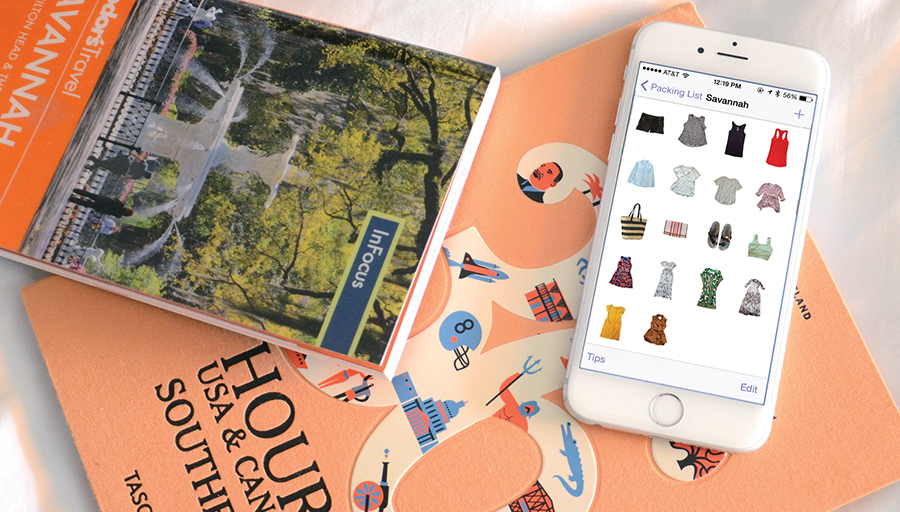 1. Packing Readymade Outfits
The first is to start with outfits you've worn in a similar situation - outfits that you know from experience will be comfortable and look great. Find out a little about the culture and climate of the place you're visiting and try to anticipate the kind of activities you'll be doing once you're there. You won't have the conveniences of home when traveling, so you'll need a bit of advance planning to make getting dressed painless while on the road. If you pack outfits that use some of your favorite clothes that have already proven themselves, you'll feel confident. Since my trip was to Savannah, I planned on going out for a few nice dinners, hanging out by the pool, shopping, and visiting a few museums. I needed stylish casual outfits that could hold up in extreme heat.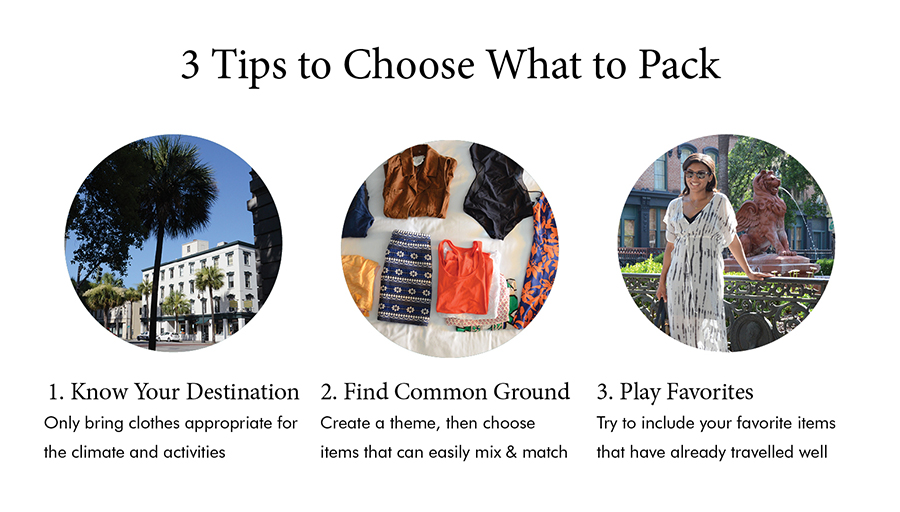 If you choose this method, start planning what to pack by creating a new packing list inside Stylebook and then start adding your existing outfits by tapping "+ Look" at the bottom of the list screen. The app will then automatically create a checklist of the individual clothes you need to pack, already grouped by type of clothing. If you already use Stylebook to save your outfit ideas, this will definitely be the easiest and fastest packing method. If not, you can start your digital wardrobe with just the clothes from this trip! (see how-to)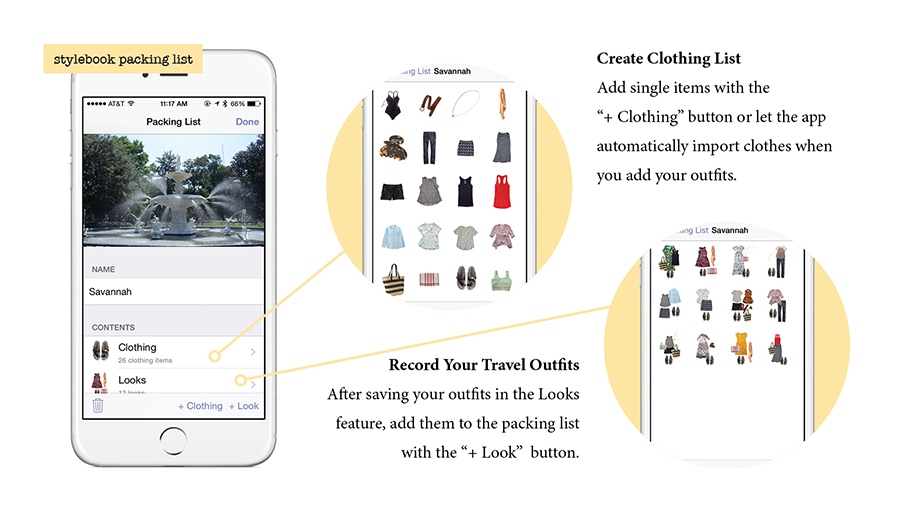 Seeing all the items you plan to bring inside Stylebook can give you a better perspective on which items are truly necessary. Take a moment to edit out any items that are too similar. For example, try to limit the amount of shoes you bring. Shoes take up a lot of valuable space in your luggage, so I usually try to bring only one or two pairs. Just remember that the shoes you do pick have to look good with all your outfits and need to be comfortable enough to walk around in all day.
Once you figure out what's redundant, it's easy to clean up your packing list. To remove unwanted clothes, open the packing list's clothing section, tap "Edit", select the items you want to remove, and then tap the trashcan icon.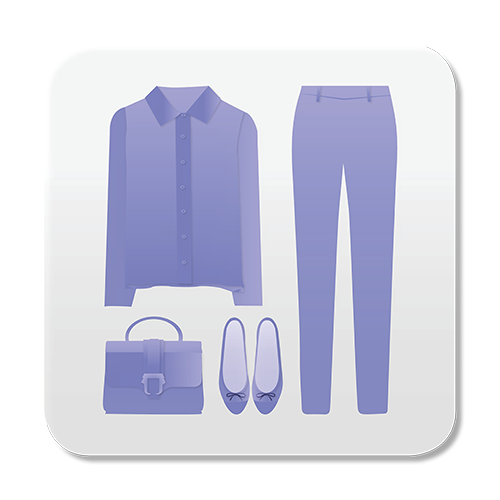 Start your own packing list now with Stylebook
Bring A Record Of Your Outfits
The readymade method may result in a collection of clothes that may be hard to mix and match, so it's essential that you keep a visual record of the outfits with Stylebook. Otherwise, you may forget exactly how you planned to wear everything and wind up at the end of your trip with a few odd pieces of clothing that don't go together.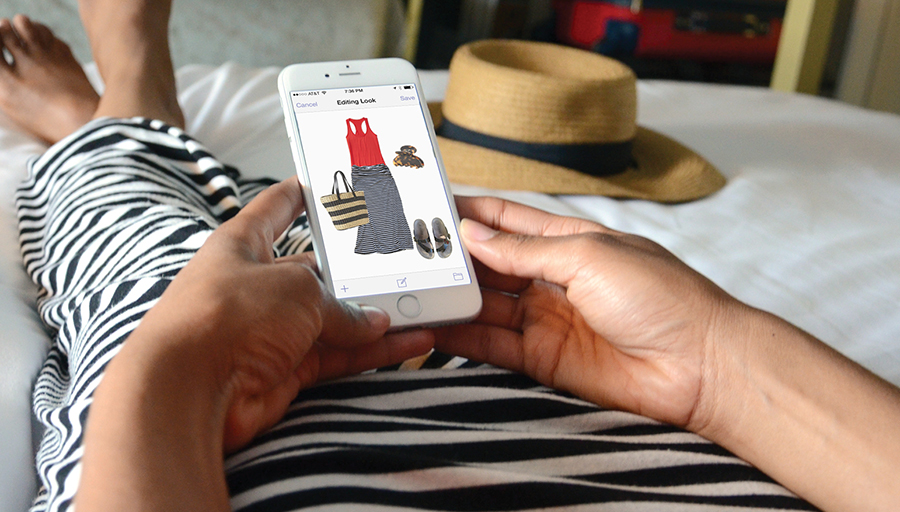 2. Planning a Travel Capsule Wardrobe
The second way to pack is to start fresh and create new outfits for your vacation. This is somewhat riskier because your outfits may not be as comfortable as you hoped, but it definitely makes packing more fun. Don't forget that you can always try your looks on at home before committing to bringing them with you.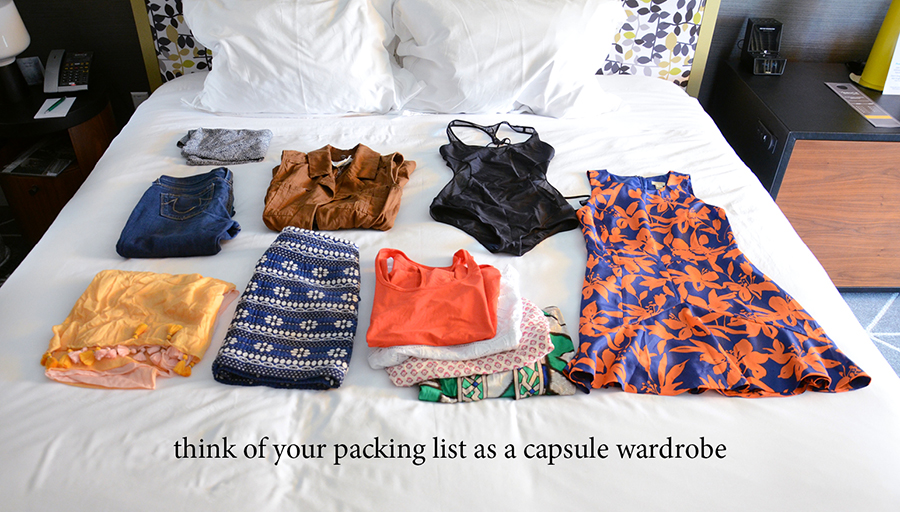 black-and-white tank (similar), vest (similar), cut-out swimsuit (similar), floral dress (similar), jeans, scarf (similar), skirt (similar), red tank,
eyelet t-shirt, red and white printed blouse, green tunic
Make a List of Clothes
When you select clothes to create your vacation outfits, treat your entire packing list like a capsule wardrobe with a common thread, like a pattern or color. Choosing items that look good together will allow you to mix and match on the fly if you're not happy with the outfits when you arrive at your destination. I chose items with large and small graphic patterns as well as bright red and blue, which looks nice together.
Packing similar colors also makes laundry easier, since you can usually wash similar colors in one load. If you're staying at a friend's house or your hotel has a laundry room, you'll be able to spend less time waiting for the washing machine if you choose clothes that can be washed together.
How To Choose Clothes So You Can Mix and Match
Choose a common thread like a specific color palette and stick to it
Make sure all of your bottoms can be worn with at least two of the tops you bring
Before you leave, try on your favorite outfits to make sure the proportions look good
Select clothes for both comfort and fit. If it's uncomfortable - don't bring it!
Choose multi-purpose items - like a scarf that doubles as a cover-up or a blouse that can be worn alone or open over a tank or dress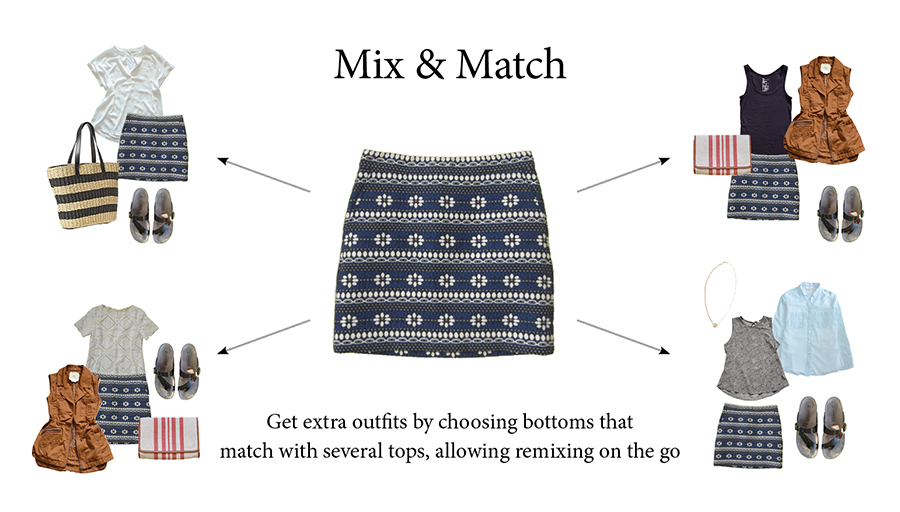 Save Your Outfit Ideas
Use Stylebook to save your outfit ideas using the items you selected and try to make as many combinations as you can. The Looks feature lets you save your outfit ideas by collaging outfits of your real clothes.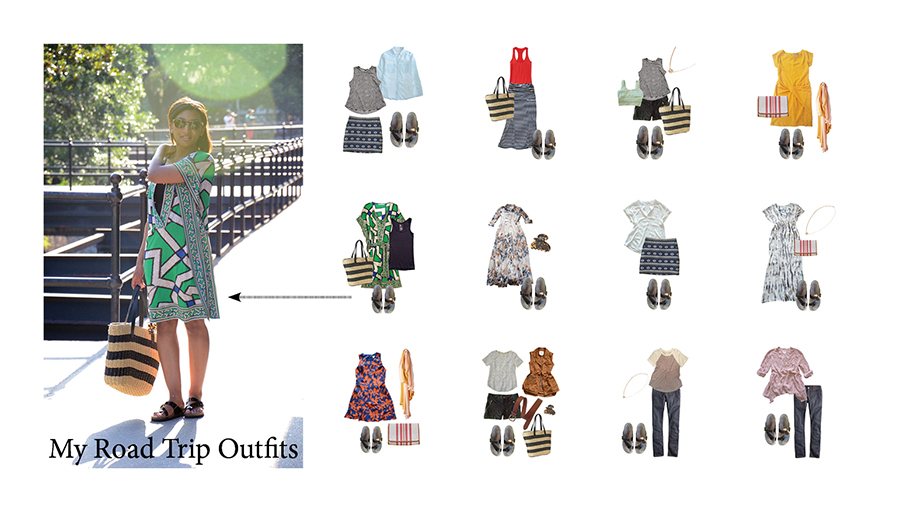 Plan What To Wear On The Calendar
Now that you have a pretty good idea of the outfits you think you'll need, use Stylebook's Calendar feature to plan what you're going to wear based on your activities. Open the Looks section of your packing list and open your first outfit, then tap the calendar icon at the bottom on the screen. This will allow you to assign a date to that outfit. If you know you want to go out to eat or visit a museum on a certain day, you can choose outfits accordingly. You can even put more than one outfit on each day and use the calendar notes (see how-to) to record where you plan to wear each look (these notes are searchable so even if you switch activities to different dates you can quickly find what you wanted to wear by searching the calendar). Repeat this until you've scheduled all the outfits from your packing list onto your calendar.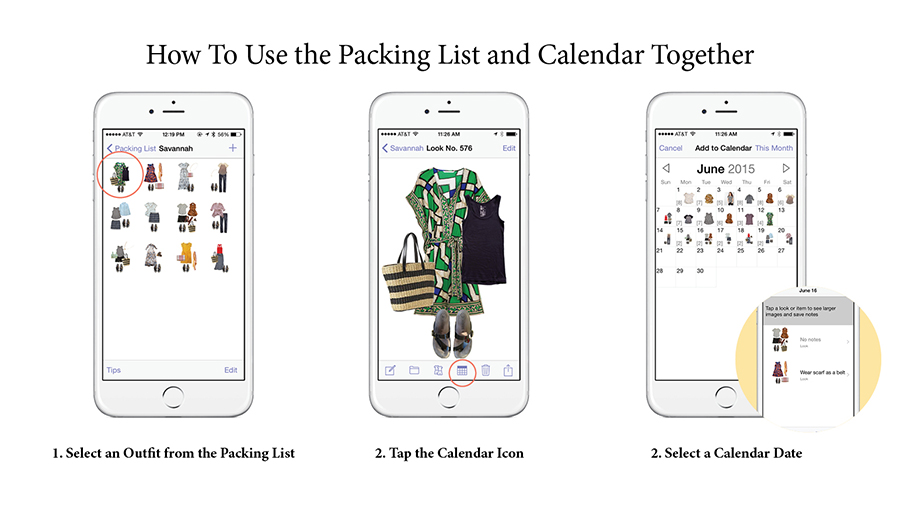 For my trip I was able to use this feature to help me deal with hot weather. I knew it was going to be at least 100 degrees almost every day in Savannah, so I used the calendar to make sure I had enough clothes to allow myself to change at least once a day. I planned to go out exploring during the day and then go out to nice restaurants at night. In my case, it was essential that I bring enough clothes to cover both activities without having to do laundry.
After you've added all your outfits to the calendar, see if anything went unused. If you have a few extra outfits you might choose to leave those items at home and save some room in your suitcase.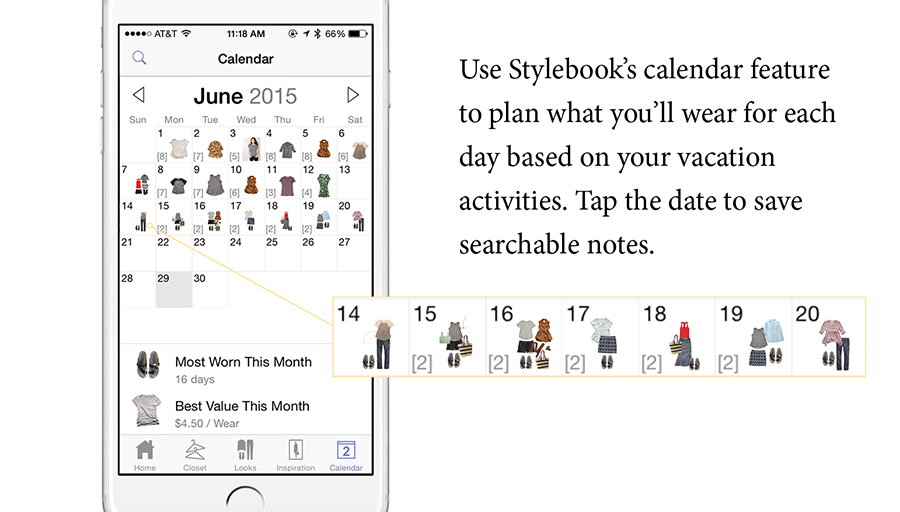 Make Getting Dressed Easier
You've already planned exactly what to bring, so make sure you can actually find it when you're at the hotel. Many hotels provide a dresser or closet where you can store your clothes in the room. Getting dressed is much easier if you can actually find what you're looking for, and hanging up your clothes puts everything right at arm's length. There is also the added bonus of avoiding extreme wrinkles from leaving your clothes crammed into your suitcase for your whole trip. The few minutes you spend unpacking when you first arrive will pay off when you need to get changed later on in your trip. (Just don't leave anything behind when you leave - triple-check every drawer and closet before you check out of the hotel!)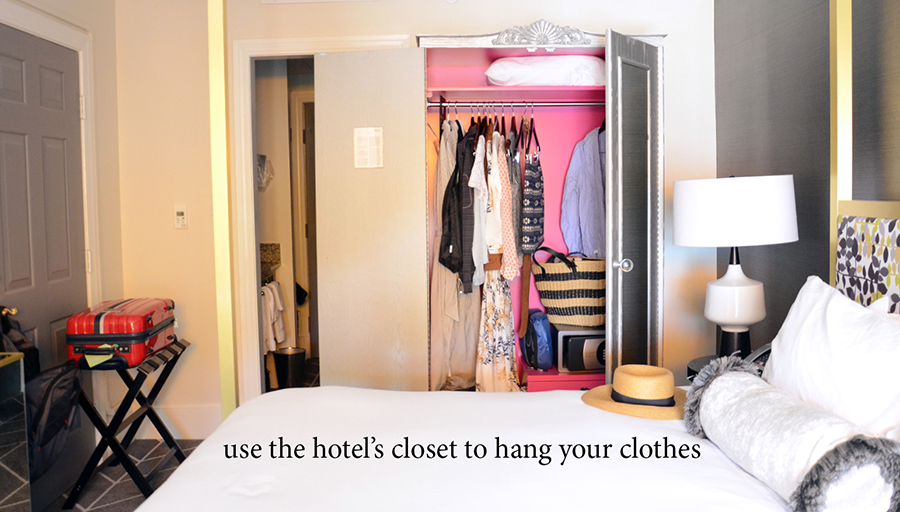 Using Stylebook At Your Destination
Another excellent way to get dressed faster, especially if you plan on dressing up, is to write styling notes in your packing list. This will prevent you from drawing a blank when you spot a particular accessory that perhaps you had a crazy idea for while you were packing.
On this particular trip, the heat ruled out wearing too many layers, so I used accessories to add a little extra interest to my outfits, including a scarf. Yes, scarves can be worn in hot weather! Instead of tying it around my neck, I wore it like an obi belt, vest, pool coverup, and a wrap in overly air-conditioned restaurants. The vest idea is something I spotted on Pinterest before I left, so I definitely wanted to make a note to remind myself why I was packing that particular accessory.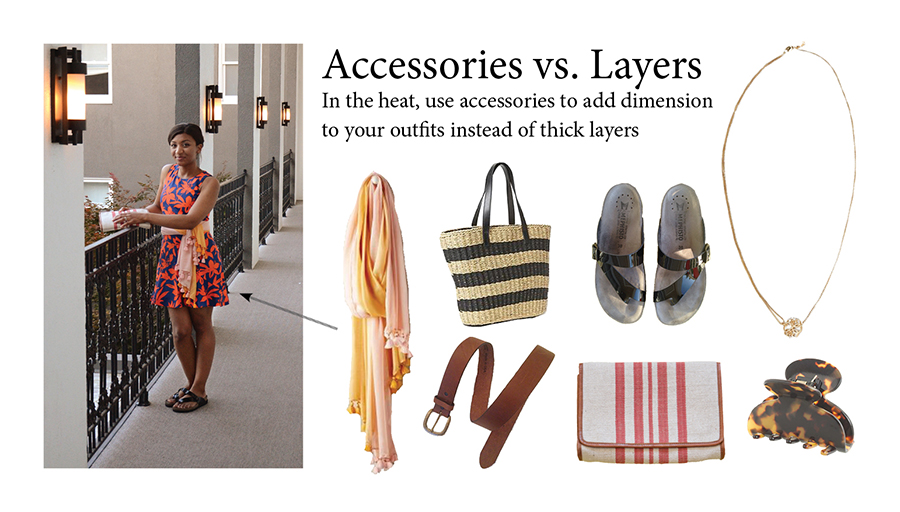 tassel scarf (similar), striped straw tote (similar), leather belt (similar), Mephisto patent-leather sandals, Alex & Ani adjustable necklace,
striped clutch (similar), tortoise clip
Bon Voyage!
Not worrying about what you're wearing allows you to feel comfortable in your own skin and appreciate the world around you - an essential skill for traveling. A little bit of planning combined with Stylebook's modern technology can transform packing from a tedious task to a surprisingly relaxing experience. Planning the perfect packing list is just a matter of organization. You don't have to rush home and start digging through your closet. You can plan you vacation outfits while you're on your lunch break with Stylebook.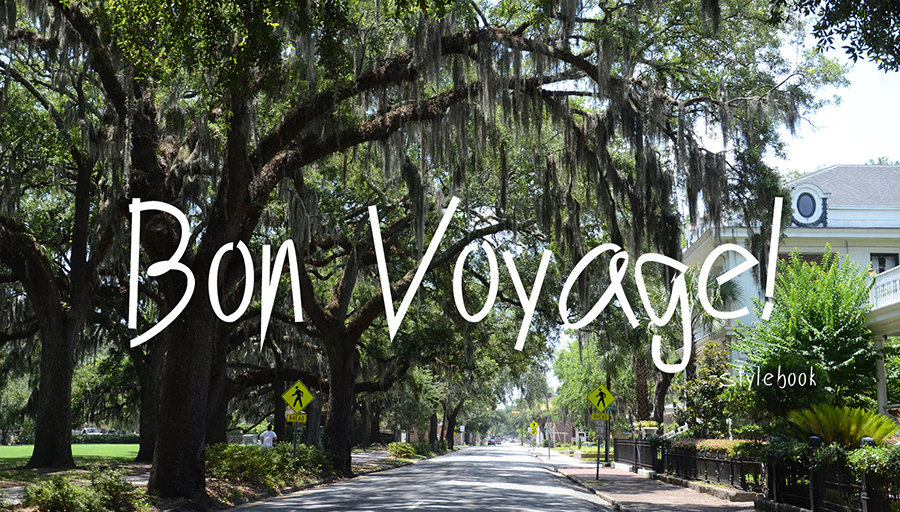 Stylebook Packing Check List
5 dresses (
example
)
4 blouses (
example
)
3 tank tops (
example
)
2 skirts (
example
)
1 sports bra
1 vest
1 pair of shorts
1 pair of jeans
1 tote bag
1 clutch
1 belt
1 hair clip
1 necklace
1 swimsuit
1 pair of sandals
1 scarf
1 hat
underwear
pajamas
NOTE: Posts in the Style Guides series include affiliate links to some of the products discussed. Stylebook receives compensation for purchases made through links to affiliates.
GET THE APP
Read More Style Guides