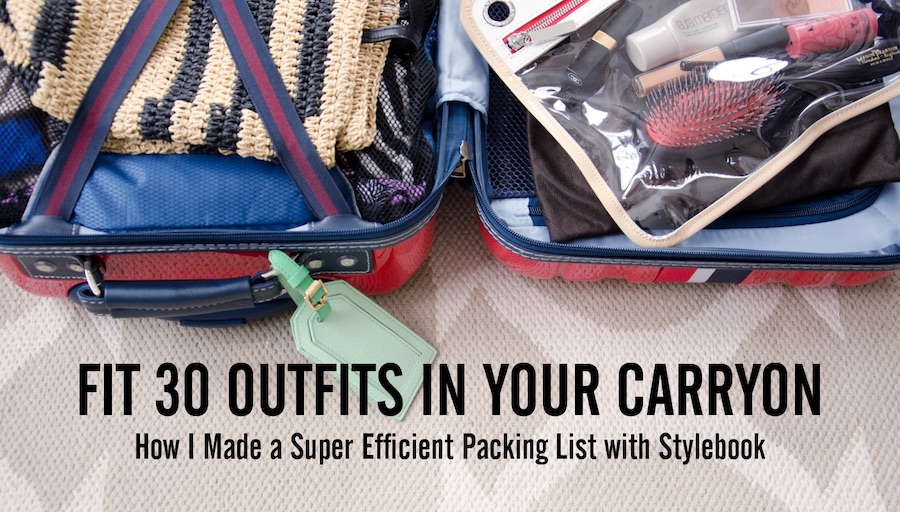 30 Outfits in a Carry-On: The Tools & Techniques You Need to Fit It All
Packing for a long trip can be challenging. Most of us overpack to avoid being caught without the right items. On my latest trip to Aruba, I planned my travel wardrobe in advance so I could bring a month's worth of outfits with me without having to check my bags (I didn't go away for a month but I like to have options!). I came up with a packing list of 28 items that can be combined into 30 outfits and can fit into two relatively small bags along with my laptop, iPad, and toiletries. With the aid of Stylebook and some clever luggage organizers, I was able to achieve my goal!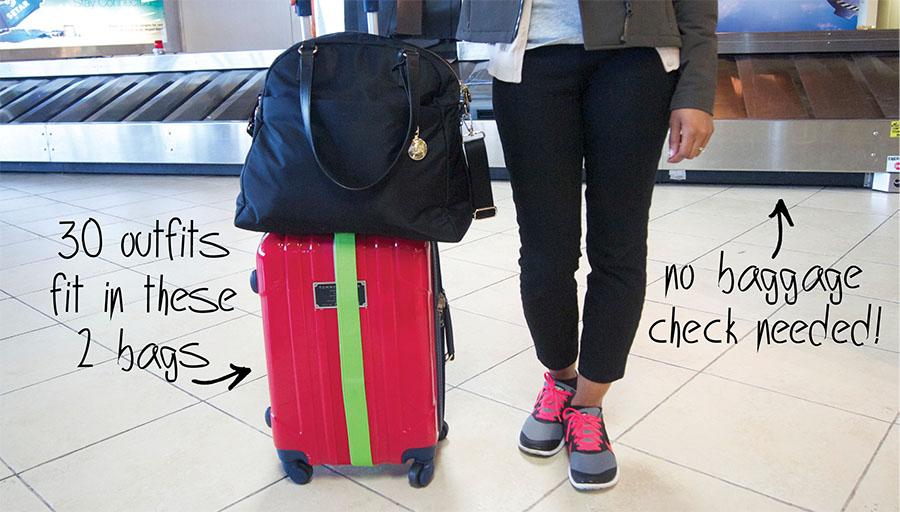 Choosing Your Items
Here are a few simple rules to help you make your packing list. At the bottom of the story, I've included a list of the items I packed and images of the outfits I created with them.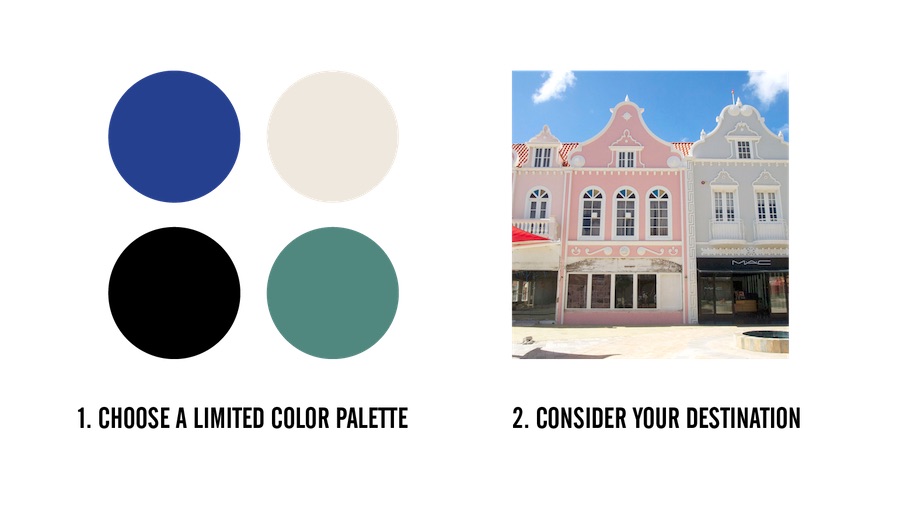 Choose a Limited Color Palette - You'll be able to easily mix and match your clothes if you pick three or four colors that look nice together.
Consider Your Destination - Think about the temperature, overall vibe, and what you plan on doing while you're there before you select your clothes.
Create a List - Search for items in your closet that fit your color palette and are appropriate for your destination's climate. Then, narrow down your choices by considering what you'll need based on your activities.
Save Your Outfits - Try to make as many outfit combinations as you can using the items you selected. Remove any items that aren't used in outfits so you don't pack anything unnecessary. Make sure everything can mix and match. Ideally, all your tops should go with all the bottoms you're bringing. If you have time, try your outfits on to make sure the proportions are right.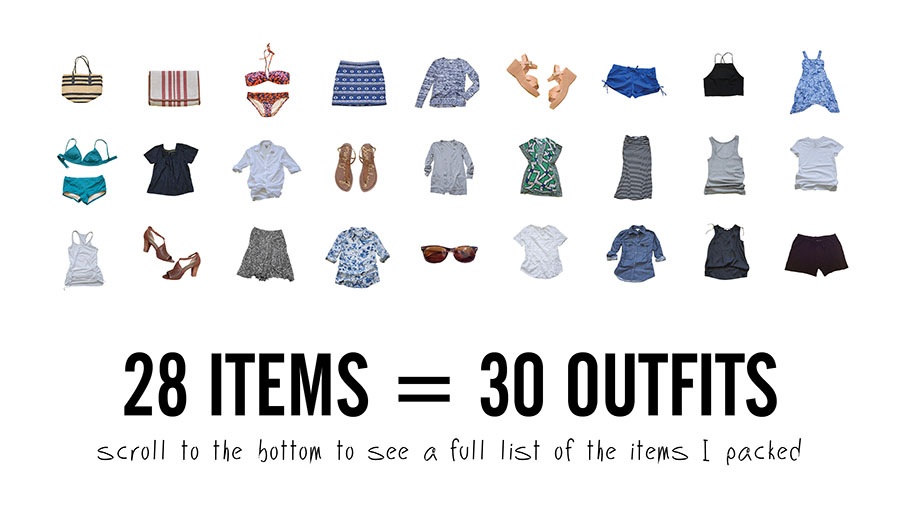 How to Fit Everything
To successfully fit everything in your carry-on, you'll need a little help from luggage organizers like packing cubes. Luggage organizers are inexpensive and worth every penny. They're kind of like drawer dividers for your suitcase, helping you to neatly fit all of your items into a small amount of space. Without these packing aids, fitting so many items into a carry-on would be impossible.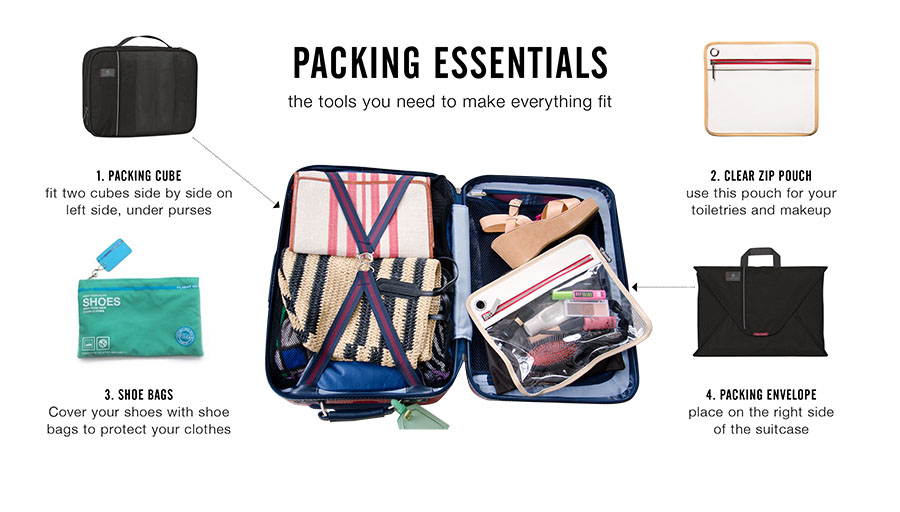 packing envelope, shoe bag, two-sided packing cube, clear pouch
Packing Cube (2) - You can fit two packing cubes side-by-side on one side of your carry-on. I used these to pack all of my skirts, shorts, dresses, and swimsuits.
Clear Zip Pouches (2) - I use these for toiletries and to hold things that would normally be inside my purse. While on vacation, I carry a straw tote and the pouch prevents my purse essentials from falling out.
Shoe Bags (3) - Put your shoes in shoe bags to protect your clothes from getting dirty.
Packing Envelope (1) - This is my favorite organizer: as long as you iron your tops before you pack them into the envelope, they won't wrinkle. On top of that, a single envelope can fit 12 shirts!
Flexible purse - Bring a compact bag that can lay flat on top of your packing cubes. I chose a straw tote and a jute clutch that is big enough to double as an iPad case. While in transit, I use a One Truffle pouch to hold all of my purse essentials inside my personal item carry-on bag.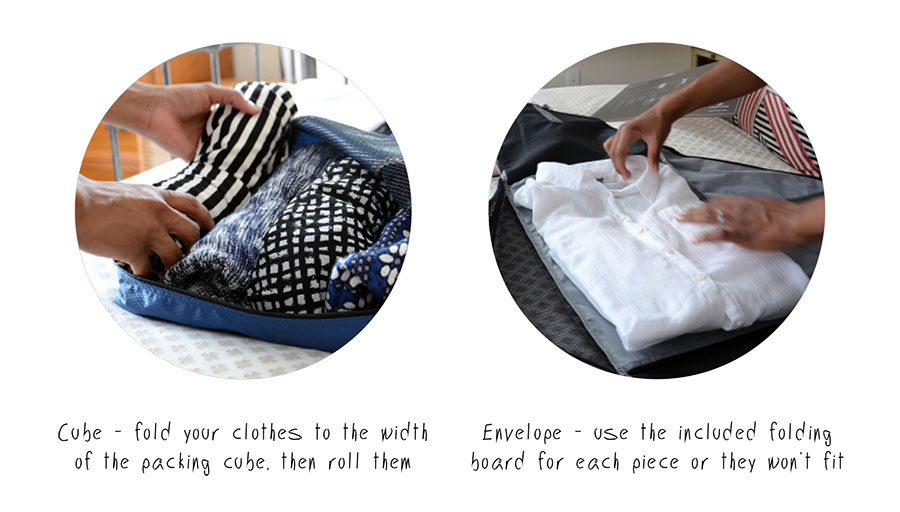 Creating a Packing List
To pack efficiently, you need to see everything you're bringing at once. Create a visual record of the outfits you want to pack, either on paper or with Stylebook. Once you come up with your outfits, add them into a packing list in Stylebook. The app will identify the individual clothing pieces you need to bring based on what's in each outfit. Stylebook will then generate a checklist you can use while you're packing your suitcase.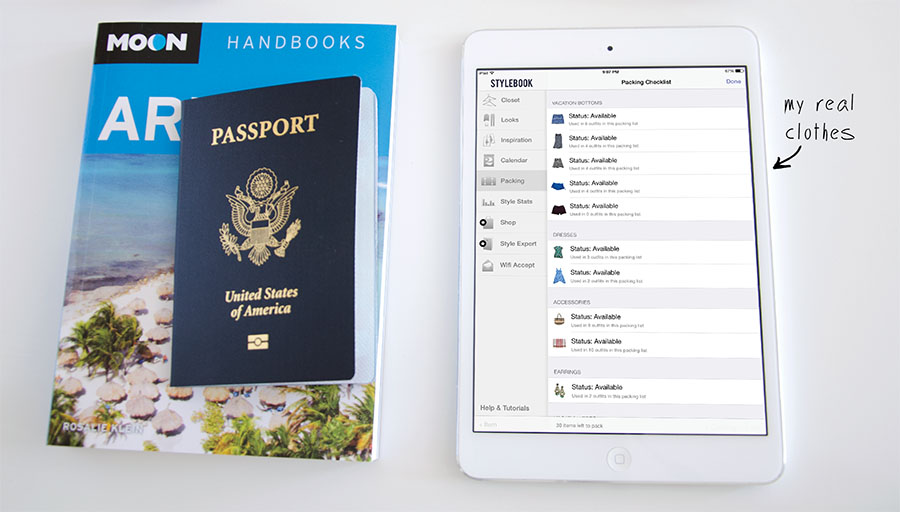 Save Space In Your Suitcase
Clutch - Pick a casual clutch that can also function as an iPad case.
Purse - Leave your regular purse at home and carry a foldable tote that can fit in your bag. Use your personal item (in my case, a Lo & Son's O.G. Bag ) to carry your laptop, undergarments, and pajamas.
Wear some double-duty items on the plane and you'll save a lot of space in your bag:
Workout Pants - If you plan on working out, wear gym pants on the plane.
Sneakers - Pick trainers that can also be worn in the gym while you're at the resort.
Gauzy Scarf - Planes can be seriously cold so wear a gauzy scarf that can double as a beach cover-up later.
Cardigan and Lightweight Jacket - Dress in layers instead of a heavy coat. Even warm places can be chilly at night - if you wear a lightweight jacket on the plane, it may come in handy later.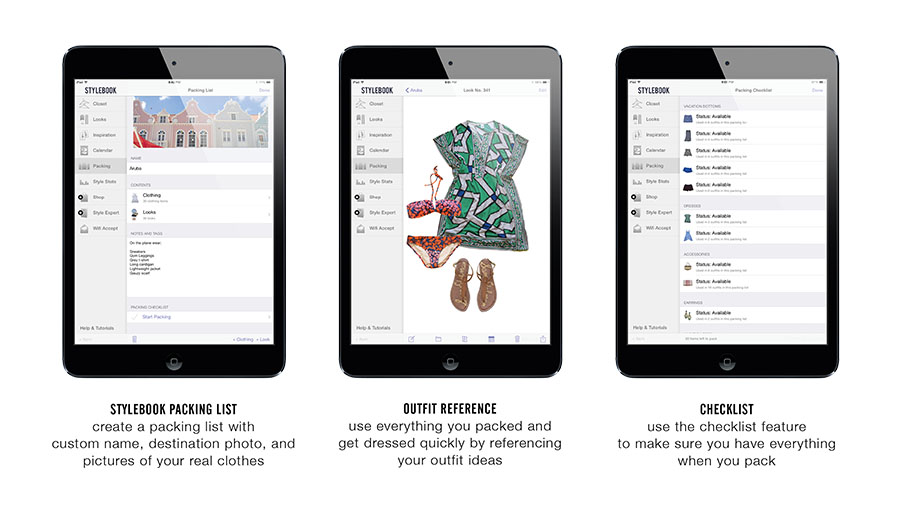 My Month of Outfits
Here are the 30 outfits I was able to create using the checklist of clothing items at the bottom of the article: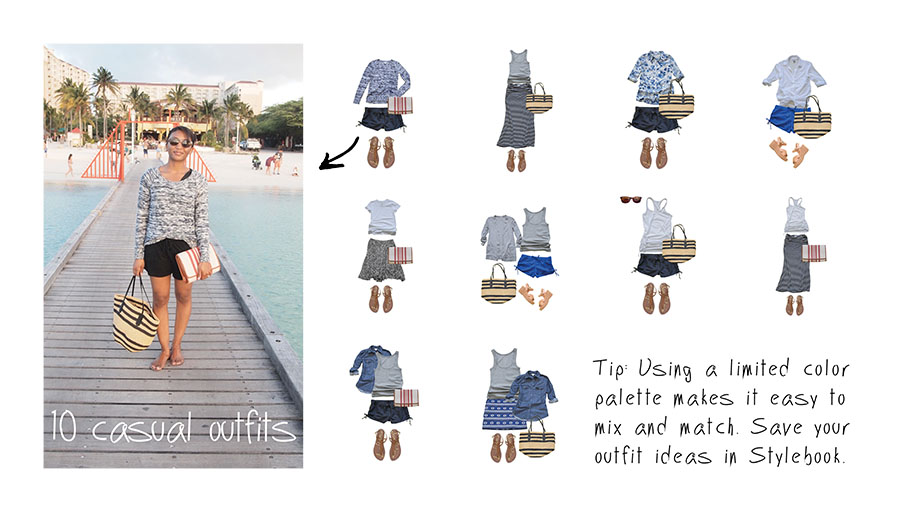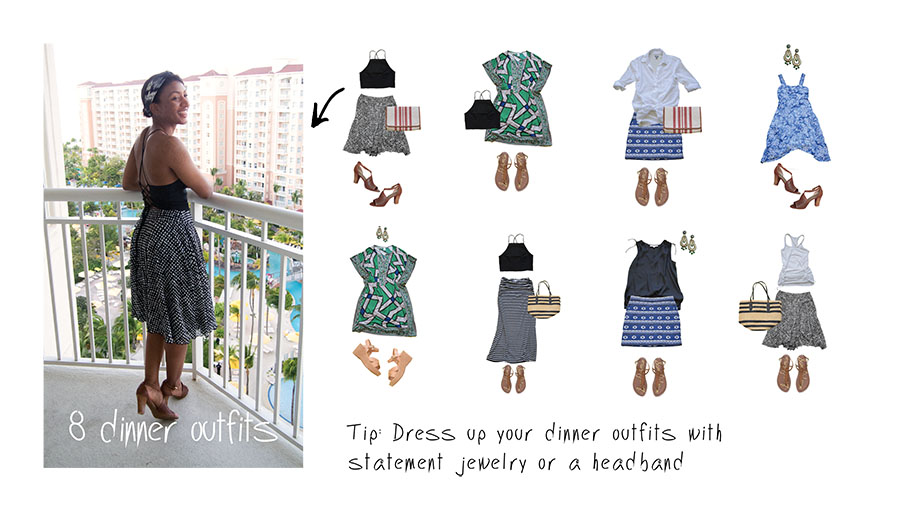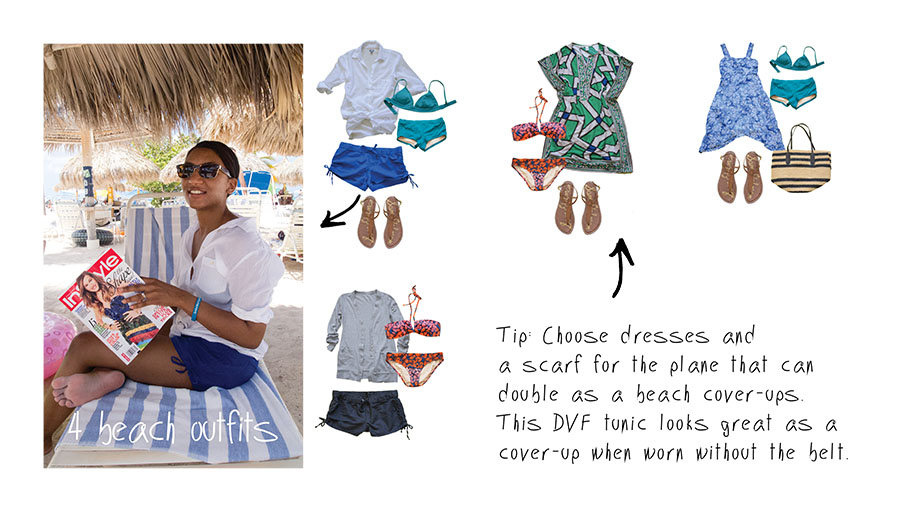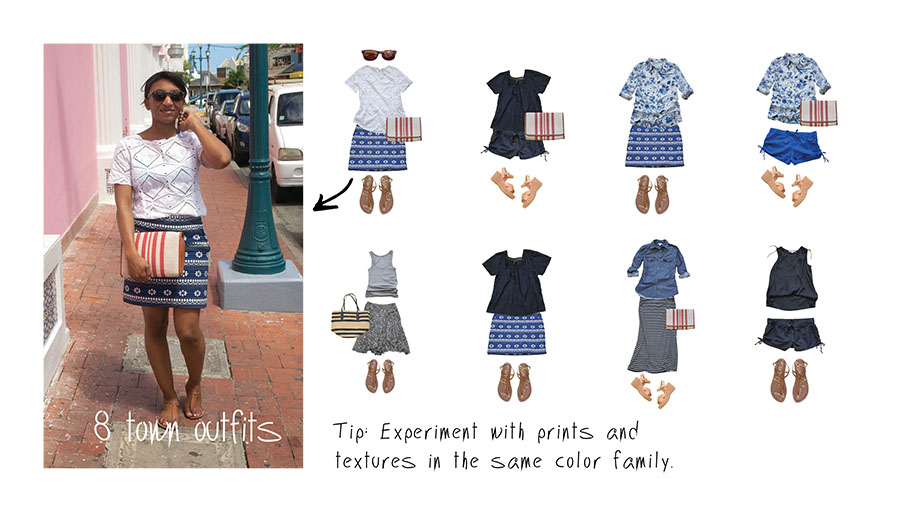 Stylebook Packing Check List
Bottoms (5)
patterned mini skirt
maxi skirt
patterned knee length skirt
bright solid shorts
neutral solid shorts
Dresses (2)
tunic dress
sundress
Accessories (4)
foldable tote
clutch
sunglasses
statement earrings
Tops (12)
solid tank with interesting detail
patterned button-down shirt
lightweight pullover sweater
silk tank
chambray button-down shirt
ribbed tank
silk peasant blouse
linen button-down tunic
eyelet blouse
long lightweight cardigan
white t-shirt
simple crop top
Swim (2)
patterned swimsuit
solid swimsuit
Shoes (3)
flat sandals
casual wedges
heels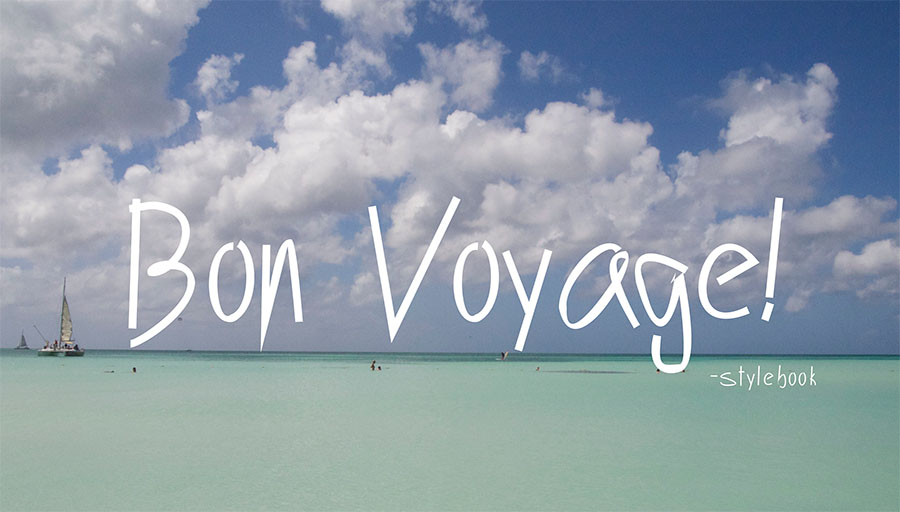 NOTE: Posts in the Style Guides series include affiliate links to some of the products discussed. Stylebook receives compensation for purchases made through links to affiliates.
GET THE APP
Read More Style Guides