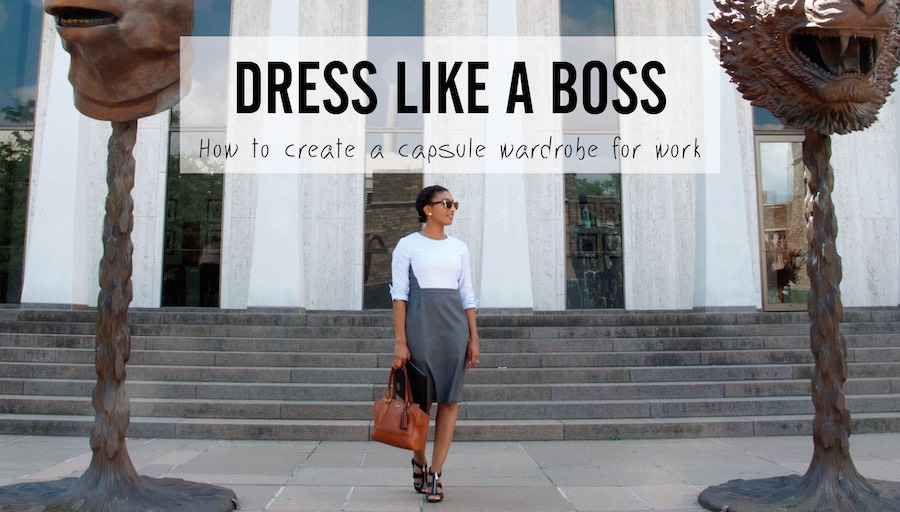 Dress Like a Boss: How to Create a Capsule Wardrobe for Work
You know the old saying: "Dress for the job you want, not for the job you have."
Yet how many times have you faced this choice: buy a nice, work-appropriate blazer, or buy something more fun, like a cocktail dress? Most of the time, the dress will win, right?
But let's face it: there are about 260 work days in the year. Your work wardrobe is WAY more important than your weekend clothes. Dressing well at work can help make a good impression and might even help you get your next promotion. Fortunately, you don't have to have an enormous work wardrobe to have great office style. I put together a capsule collection using basics to create a full 30 days of work outfits. If you wear a different outfit to work every day of the month, it will be impossible to tell that you only have 23 pieces of workwear. Below are tips on what to buy, mixing and matching your outfits, beauty secrets to help you stay polished and tips on how to keep track of everything using Stylebook!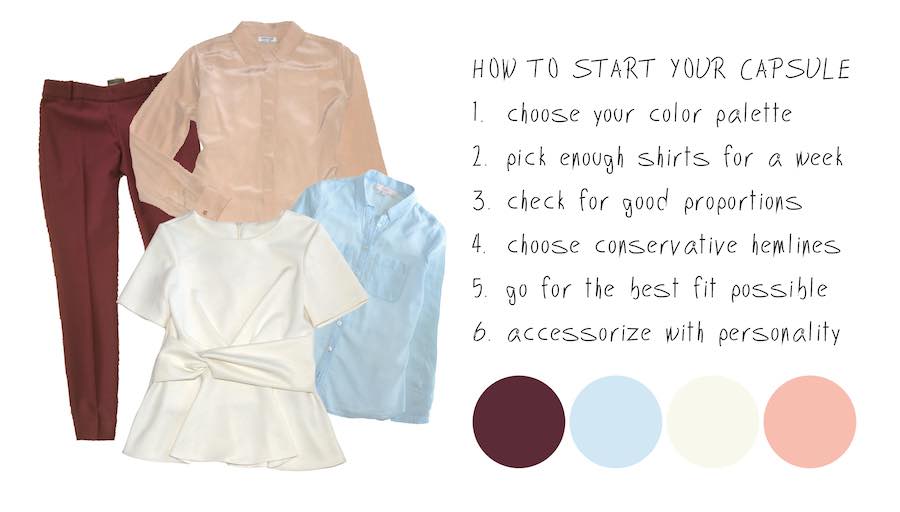 Peplum Top (similar), J.Crew Trousers, Pink Silk Button-Up Shirt, Blue Button-Up (Similar)
Selecting Your Clothes for the Capsule
First, choose a limited color palette - two to four colors should be enough.
Many of these items may already be in your closet but you might need to go shopping if they don't fit well or if you have a few wardrobe gaps. If you do go shopping, remember to stick to your color palette!
Select the following items based on your color palette:
six shirts
five bottoms
two jackets
two dresses
two bags
six pairs of shoes
Things To Consider
Skirts - Always keep your skirts knee-length. Even if you work in a creative industry, a short skirt may still turn heads - in the wrong way.
Sleeveless - No tank tops at the office - ever! If you go sleeveless, be sure to cover up your chest.
Pants - Tapered or cropped pants can be worn with flats or heels. This is especially important if you're a commuter because longer wide-leg styles can only be worn with heels, which may be uncomfortable if you stand or walk for a long period of time.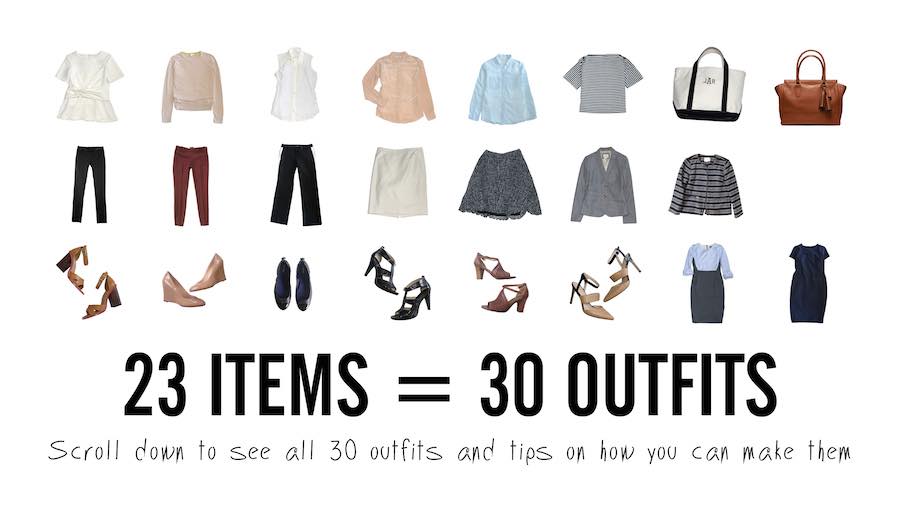 Having seven days of shirts and dresses means you can go an entire week without doing laundry. And while we're on the topic of laundry, make sure you check the care tags before you buy anything - you don't want to wind up with a bunch of dry clean-only clothes that end up sitting at the bottom of your hamper for most of the month.
If you need to buy items to complete your capsule wardrobe, seriously consider the item's fit before you rip the tags off anything. Your basics won't look so basic if they fit you beautifully. If you're petite like me, always buy dresses and pants in the petites department. I used to think I could just hem regular sizes but sometimes the seams and pockets are just in the wrong place for me. Also, always look in a 3-way mirror! I've seen many pencil skirts that looked fine in the front but then had a back slit that was way too revealing.
When picking your items, consider including some subdued patterns. I like smaller classic patterns like stripes, swiss dots, or geometrics - they are fun but still office-appropriate. Try to avoid anything overly bold if you're planning on keeping a small office wardrobe - you might feel self-conscious repeating it. Once you've selected everything, photograph your clothes for your Stylebook virtual closet so you can keep track of what you own and nothing will get lost in the back of your real closet.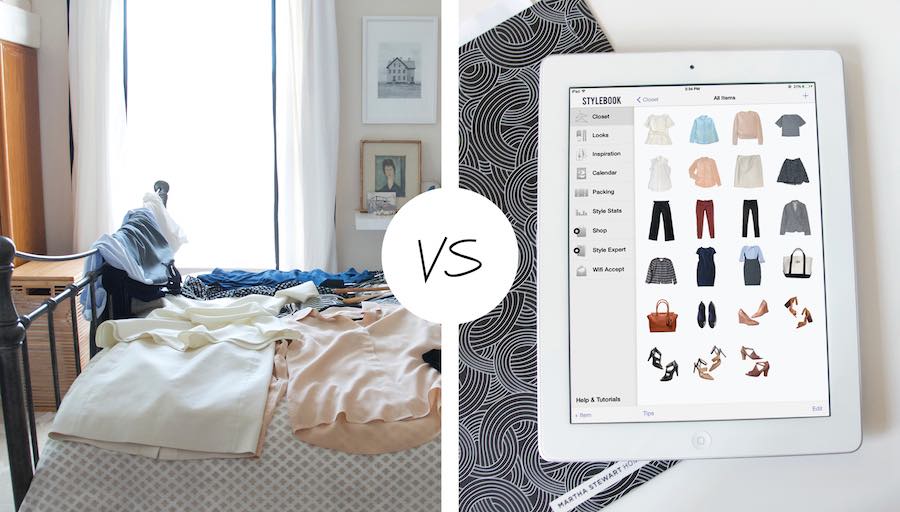 Stylebook Tip: Add the tag "work" to your notes for each item so you can easily search for your work items when creating outfits.
Mixing and Matching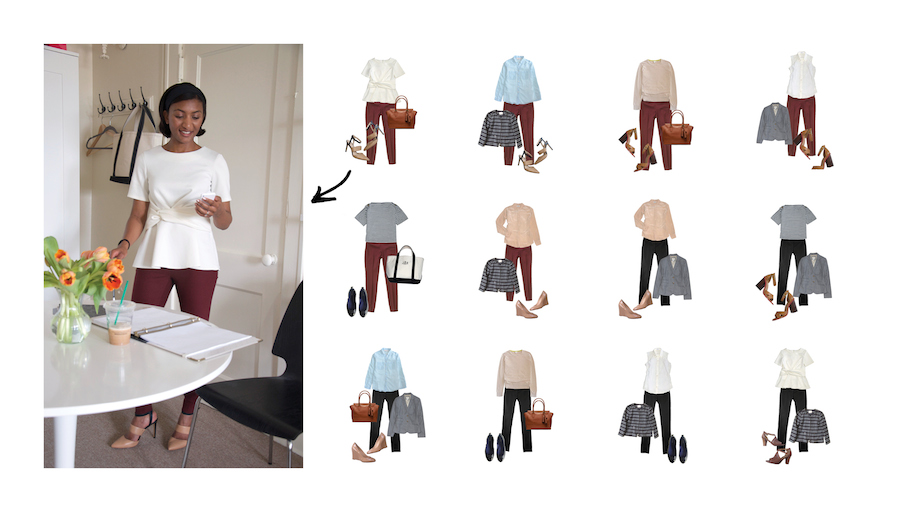 A rule that's always helped me is that every bottom in your capsule collection needs to match at least 3 different tops. In addition, both of the jackets you choose for your capsule need to pair well with most of your tops. Following those rules, you should have almost 30 outfits right out of the gate. Now let's get a little creative with how you make those combinations.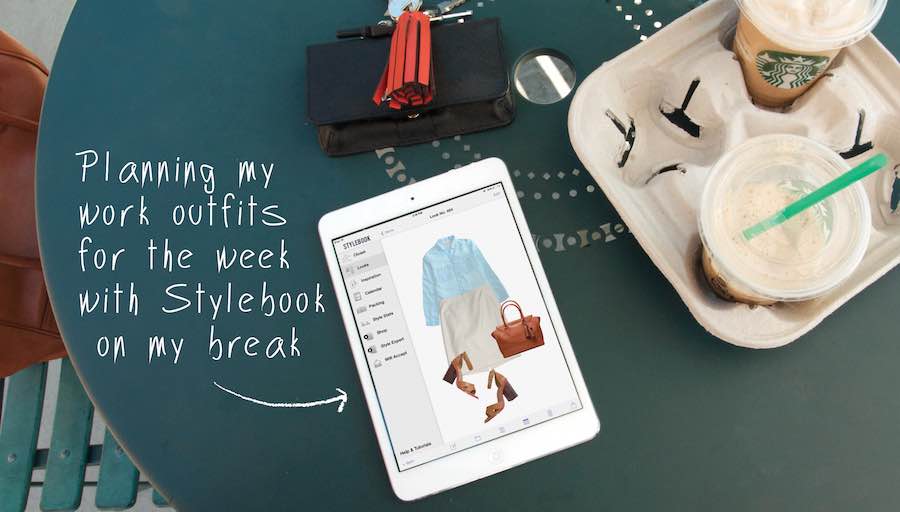 Black Wallet (similar), Tassel Keychain (similar), Stylebook Closet App
I love monochromatic outfits, especially when I'm combining a top and skirt. If the colors match exactly, this combination can make your outfit look like a dress - some stores even sell matching sets meant to create this illusion. These are fantastic because you have the option of wearing them together or as separates. You can also use this approach with trousers, but be sure to wear a top in a slightly different shade. For example, I might wear burgundy wool trousers with a powder pink button-down. It looks contemporary but the shapes are still appropriate for the office.
Stylebook Tip: Stylebook is the perfect app to plan your outfits. If you've imported your clothes into Stylebook, you'll be able to come up with outfit ideas wherever you are. The app's outfit editor allows you to collage images of your clothes and then save your outfit ideas with searchable notes and tags. Your real closet can stay orderly, since you can experiment without pulling everything out.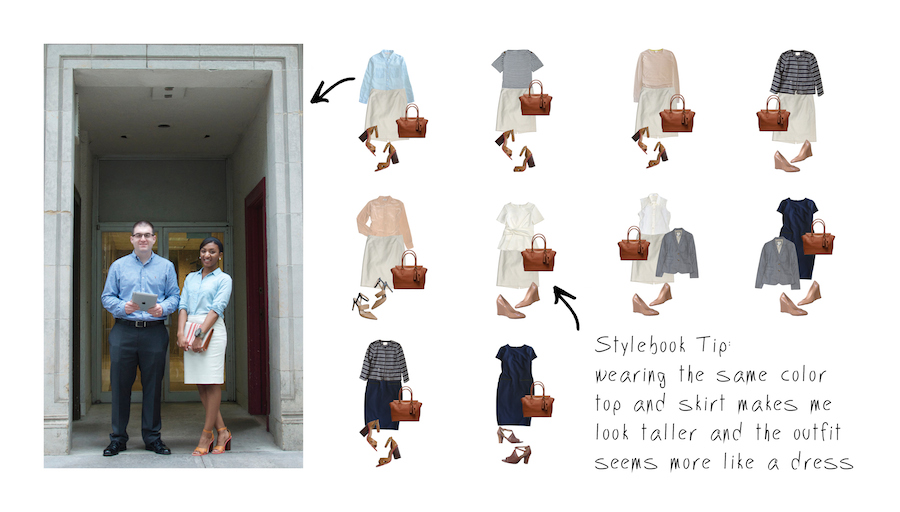 Blue Button-Up (Similar), J.Crew Pencil Skirt, Striped Clutch (Similar), Red & Tan Sandals (Similar)
Next, let's talk proportions! Look out for where each piece of clothing sits on your body and consider if it's flattering in relation to the other pieces you're wearing. For example, my cropped striped jacket looks great with a cream peplum top because the bottom of the jacket emphasizes my waist instead of my hips. When it comes to proportions, opposites attract for most people. Pair long with short, voluminous with fitted, etc.
Now consider your shoes - they can make or break your outfit. Shoes are an easy way to show personality but be careful that you don't go too sexy. The more daring the shoe, the more conservative your outfit should be. When in doubt, go with a closed toe.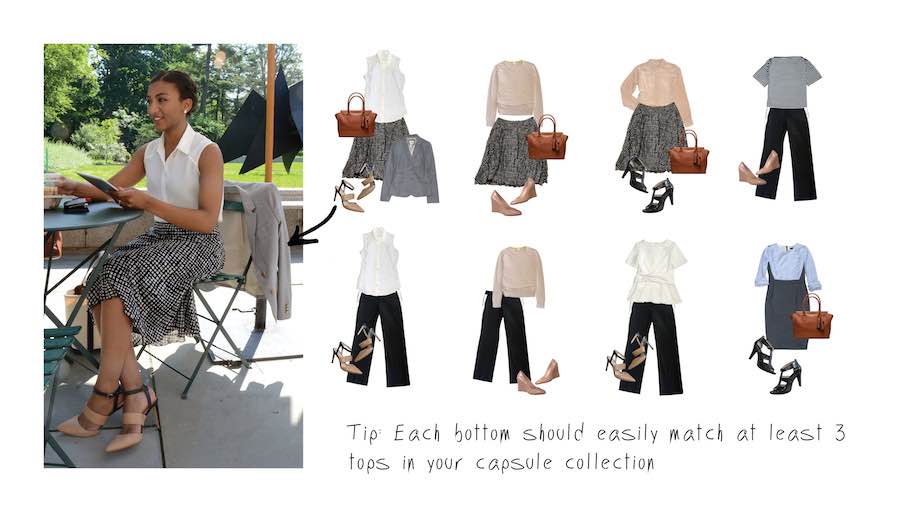 Everlane Button-front Blouse, Circle Skirt (similar), Two-tone Heels (similar), J.Crew Blazer (similar)
Don't forget you also have two dresses in your capsule collection! I like to have one simple sheath dress that I can wear any day and one "boss dress." The latter is a piece that makes me feel confident, polished, and comfortable. My favorite boss dress inspiration is Norah O'Donnell - she wears some seriously amazing dresses on "CBS This Morning." Go for a flattering color and an interesting detail like color blocking or a cool neckline. Mine is a color-blocked blue and grey dress from J.Crew. I reserve that one for client meetings and presentations. Changing up your accessories, hair, or layering with a jacket can make these pieces feel different.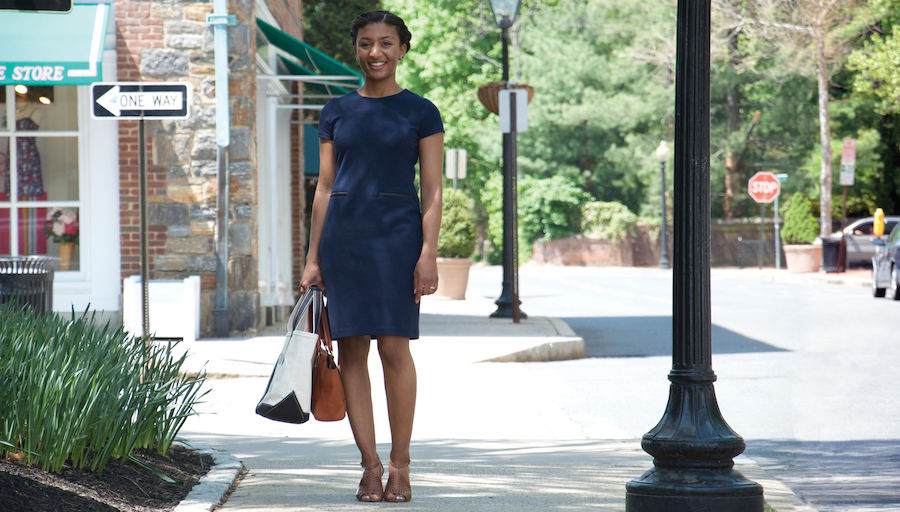 Navy Shift Dress (similar), Coach Tote (similar), L.L. Bean Monogramed Tote, Brown Perforated Sandals (similar)
Things To Consider
Heat - In the summer, it's hard to abide by general office attire guidelines because it is HOT, especially if you're commuting. In this situation, I recommend a sleeveless button-down like those made by Everlane. They look office-appropriate on their own, but if your office is conservative, you can throw on a blazer when you get to the office and no one will be the wiser. The same goes for sleeveless shift dresses. If you get caught without your blazer, it looks great but you always have the option of putting on a jacket or cardigan if the office is chilly or if you feel more comfortable covered up.
Stylebook Tip: Keeping a record of your outfit ideas in Stylebook will help you get ready for work faster, even if you wake up late. It's kind of like laying out your clothes the night before, but you can plan for the entire week or month without disturbing your closet! If you feel like wearing a certain top, just look it up and Stylebook quickly points you to all of the outfits you've created with it. You can also tag your work outfits with keywords like "work," "meeting," "presentation," "office party," etc. Then search your Stylebook outfits to quickly see everything that's appropriate while you're getting dressed.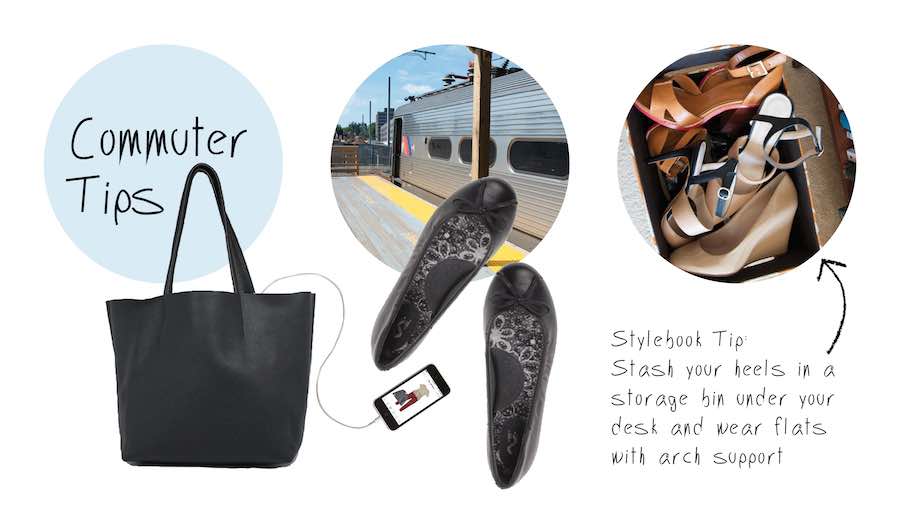 emPOWERED leather tote bag, Softwalk Flats
Commuter Tips
Phone Charger - emPOWERED makes an amazing leather tote bag that has a built-in charger. It can charge your phone from 0 to 100% and if your charger is built into your bag, you can never forget it!
Shoe Stash - If you have heels that are solely reserved for work, keep them in a storage box under your desk. Then you can wear comfy flats with arch support on the train or bus.
Cobbler - Have your local shoe repair shop replace your heel soles with thin rubber so they last longer. They can even add a guard under the toe to prevent wear and tear.
Scotch Guard - Spray down your coat and your light-colored clothes to prevent stains. Just make sure to test a small, discreet area first.
Heels - Shoes of Prey is site where you can design custom pumps, wedges, ballet flats, and more. You can choose your heel height, allowing you to create the exact shoe you want at a comfortable height.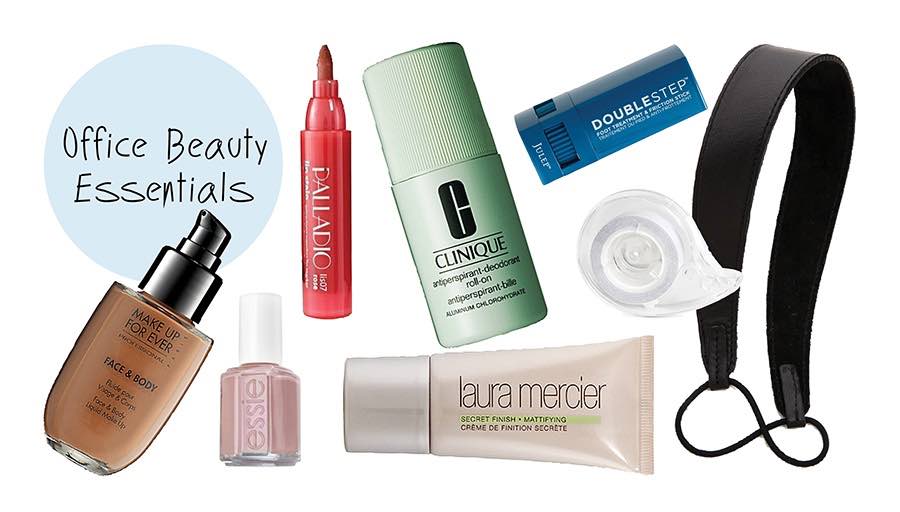 Makeup Forever - liquid makeup, Essie nail polish, Palladio - Lip Stain, Clinique - Antiperspirant, Laura Mercier - Mattifying,
Julep - Double Step Foot Treatment (similar), Fashion Tape, Jennifer Behr (similar)
Beauty Essentials
This final piece in your new office wardrobe is your beauty look. Here are some of the things that took my look from good to great!
Makeup Lesson - I strongly recommend making an appointment at a store like Blue Mercury, Benefit Beauty Bar, or MAC to get a customized makeup regimen. Their makeup artists can help you develop a quick beauty routine and, at many stores, this service is complimentary if you make a $50 purchase.
Waterproof Makeup - When I commuted to work, I was always baffled that my makeup seemed to vanish on the trip in. It turned out I was sweating it off. Go with a waterproof formula, which will stay put all day.
Mattifying Primer - I have very oily skin and nothing helped control it until I found Laura Mercier's Secret Finish Mattifying Primer.
Nail Polish - Manicures are expensive but you can still do your own nails at home. It's important for your hands to look polished, especially if you're going to be pointing to things in meetings.
Deodorant / Antiperspirant - Obviously you need deodorant, but did you know that the wax in deodorant is the cause of those yellow pit stains on your clothes? I didn't either until the I read the July issue of Martha Stewart Living. Luckily, there are deodorants with formulas made to reduce or eliminate this effect, including Clinique and Dry Idea.
Fashion Tape - Even the most modest top can look inappropriate when you bend over. Fashion tape solves this overexposure problem.
Headbands - Developing a few simple up-dos saves time and guarantees you'll never arrive at the office with limp, unstyled hair thanks to humidity or rain. I like sleek, black headbands.
Friction Stick - These little sticks are a miracle when it comes to making your shoes a little more comfortable. Just swipe wherever you have a tendency to get blisters.
Stretchy Thongs - A visible panty line is not cute - luckily, it can be avoided with the right undergarments. Stretch-lace thong from companies like Cosabella or Hanky Panky are very comfortable so they're well worth the investment.
OTHER RESOURCES
Office Style Inspiration:
Workwear Shopping Resources:
Coats: Zara, Boden, Nordstrom
Blazers: J.Crew, Zara, Club Monaco
Tops: Everlane, Ann Taylor, Zara, Uniqlo, Boden, Kate Spade Saturday, TopShop
Dresses: Talbots, J.Crew, Nordstrom, Banana Republic, Reiss
Pants: Express, J.Crew
Skirts: ASOS
Shoes: Banana Republic
Bags: emPOWERED, TJMaxx, Coach Legacy Collection
Jewelry: Gorjana
Petites: Talbots, Ann Taylor, J.Crew, Nordstrom, ASOS, Boden
Plus Size: Nordsrom, Talbots, ASOS, Vince Camuto, Calvin Klein, Ann Klein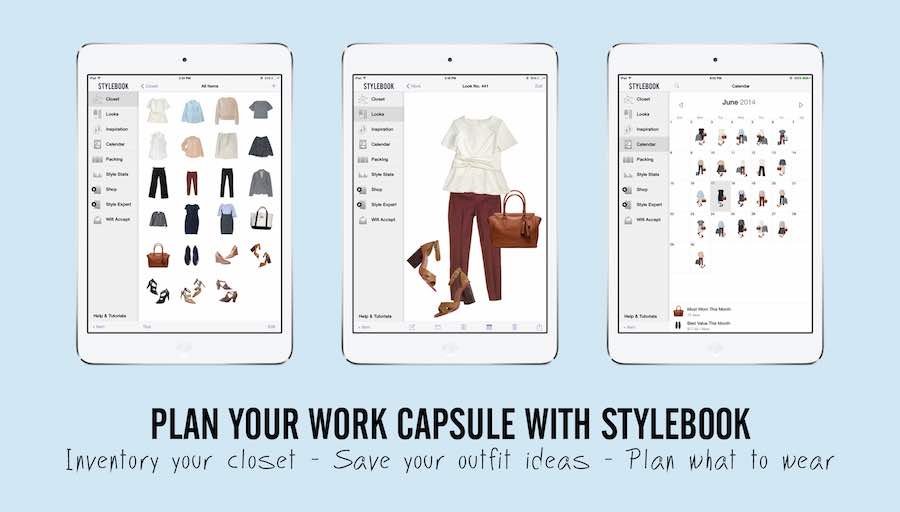 NOTE: Posts in the Style Guides series include affiliate links to some of the products discussed. Stylebook receives compensation for purchases made through links to affiliates.
GET THE APP
Read More Style Guides