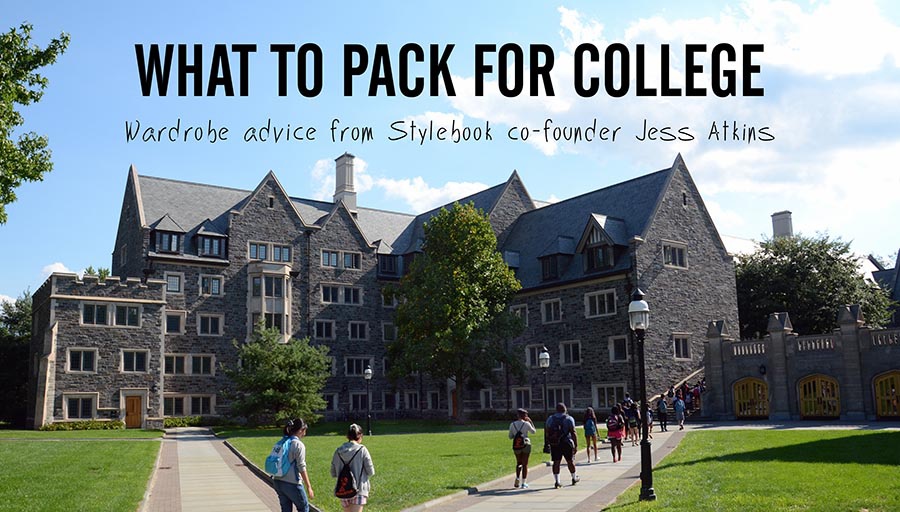 What Clothes to Pack for College: Styling Advice for the Whole Year
College dorms are known for having limited amounts of storage - and the space you do have is often shared with roommates! Before you try to stuff your entire closet in the car, use the tips in this article to avoid overpacking. This is the perfect list of what clothes to pack for college, including items that will have you covered for class, the gym, dates, spring break and more!
For a complete, detailed checklist, scroll to the bottom of the story or click here. All the outfits in this story were made using only the items in our checklist!
Getting Started
When you get started, think about your particular school. If people tend to dress a little more casually, you know that you probably won't be wearing a lot of dresses and skirts even at parties. Also, if you're moving to a Northeastern school, like Princeton, you're going to need to buy winter clothes and a coat - that might seem optional if you're coming from a warmer climate, but it's not!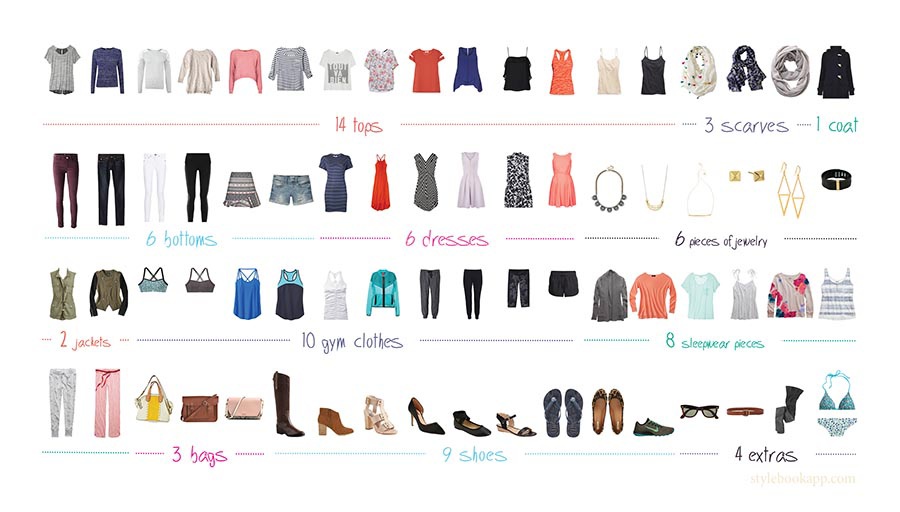 Tops: 1, 2, 3, 4, 5, 6, 7, 8, 9, 10, 11, 12, 13 Scarves: 1, 2, 3 Coat: 1 Bottoms: 1, 2, 3, 4, 5, 6 Dresses: 1, 2, 3, 4, 5, 6 Jewelry: 1, 2, 3, 4, 5, 6 Jackets: 1, 2 Gym: 1, 2, 3, 4, 5, 6, 7, 8, 9 Loungewear: 1, 2, 3, 4, 5, 6, 7, 8 Bags: 1, 2, 3 Shoes: 1, 2, 3, 4, 5, 6, 7, 8, 9 Extras: 1, 2, 3, 4, 5
Class
Don't worry about trying to wear a completely different outfit every day. Instead, choose a few basics that flatter you and can be made into your "uniform." One good go-to combination is a long-sleeved top paired with skinny jeans. To add variety to your uniform, choose basics in a variety of textures and colors.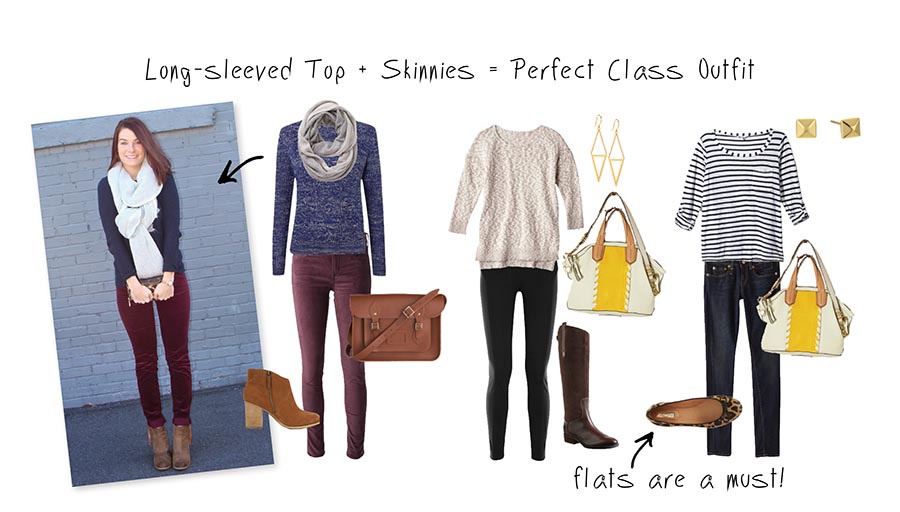 scarf, sweater, pants, bag, booties, sweater, leggings, bag, boots, earrings, striped t-shirt, jeans, stud earrings, leopard ballet flats Photo Credit: The Twin Crowd
Mixing and Matching
Choose a basic color palette so all of your pieces work together. Then, use accessories to add interest to your look. Experiment with scarves, vests, belts and different necklace lengths. A statement necklace and a jacket will give you a more polished look while a long pendant necklace and ankle boots are more casual. Also, try several different styles of flat, comfortable shoes like tall boots, ankle boots, ballet flats, and a pair of patterned flats.
Shoes
Don't bring heels for class! You're going to be walking a lot more than you think, and chances are no one else will be dressing up that much. But I'm not saying you have to wear orthopedic walking shoes - there are tons of cute options that are both comfortable and good-looking. Still, pack one pair of basic pumps and one pair of fun heels just in case you need them for special events.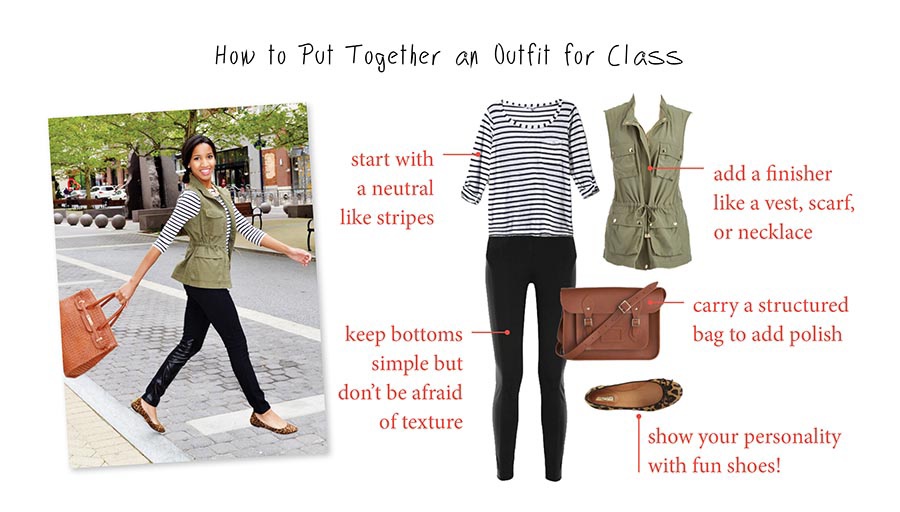 striped t-shirt, leggings, vest, bag, leopard ballet flats Photo Credit: Spark & Chemistry
Bag
Since you probably won't be lugging tons of books at once, you can go for a nicer-looking bag option than what you carried in high school. I like oversized satchels that are big enough to fit notebooks and a textbook. If you do wind up needing a backpack, choose a pattern with colors that look good with your overall wardrobe color palette. Herschel makes some really cute options!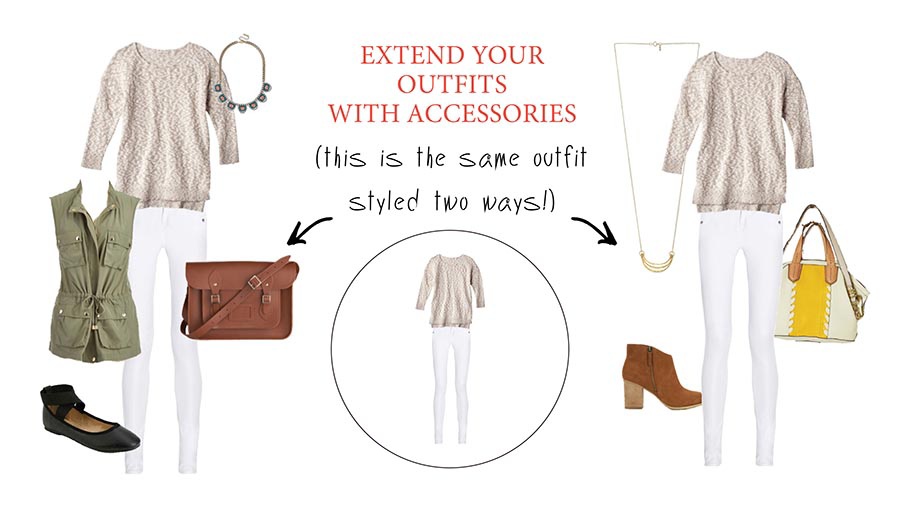 sweater, white jeans, vest, statement necklace, bag, ballet flats, long pendant necklace, yellow bag, booties
Winter
If you're going to a colder climate you need winter clothes - seriously! I can't tell you how many students think they can survive Northeastern winters with thin coats that look great but don't provide any actual warmth. You're going to be walking A LOT, so you need to learn to layer to stay warm! Buy a coat with some weight and also bring winter accessories like gloves, a warm scarf, and tall boots. Thick black tights will be your best friend, so bring a few pairs. When it's really cold, you can wear them under your jeans for added warmth or double up if you're wearing a skirt.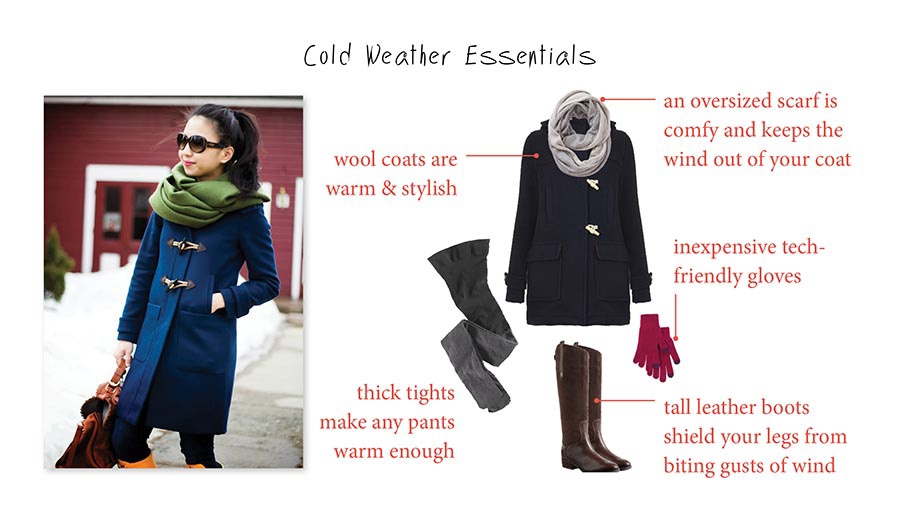 scarf, toggle coat, opaque tights, boots, gloves Photo Credit: Fast Food & Fast Fashion
Laundry Tips
Don't even think about bringing dry clean-only clothes with you - they're just too impractical for a campus lifestyle. It might be hard to get to a nearby dry cleaner, and you may not want to spend your cash on weekly visits. Definitely check all your labels and make sure your clothes can be machine washed so you'll actually wear them.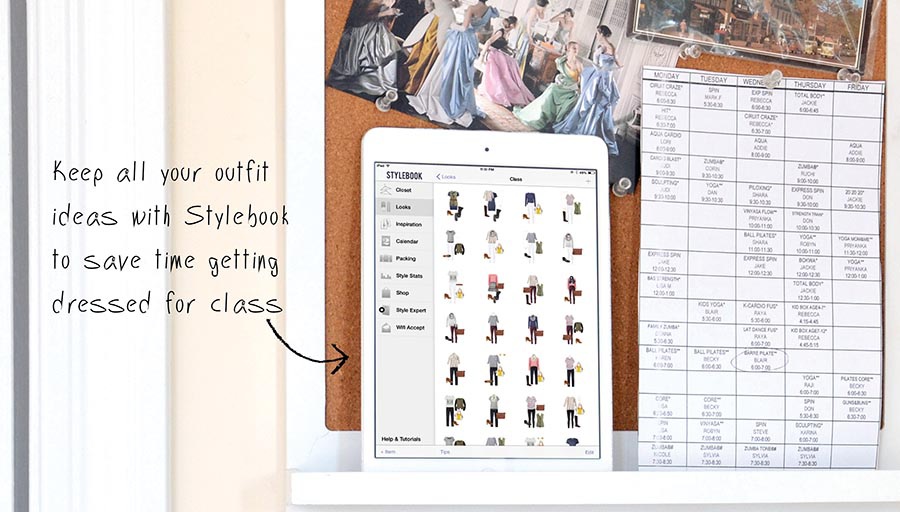 I like knits and silky fabrics like nylon because they usually don't need to be ironed. Another tip is to take your clothes out of the dryer as soon as they finish. If you hang them up right away, they'll be wrinkle-free and everyone in the laundry room will love you for not hogging the machines.
Stylebook
Keeping a digital inventory of the clothes you bring to school will save you a little frustration because you'll know exactly what you have. If you have a complete list, you'll never tear through your closet for half an hour only to discover you left that top back at home. The other more useful feature is you can save all your outfit ideas! I made over 70 outfits for events like class, parties, spring break, the gym and sports games using the clothes in this story. If you do the same, you'll be able to get dressed quickly for any situation and will always feel like you have a lot of options even with a fairly minimal wardrobe. Finally, the last bonus is you can actually keep your closet neat and organized if you can play with your clothes virtually instead of tossing them all over your dorm room!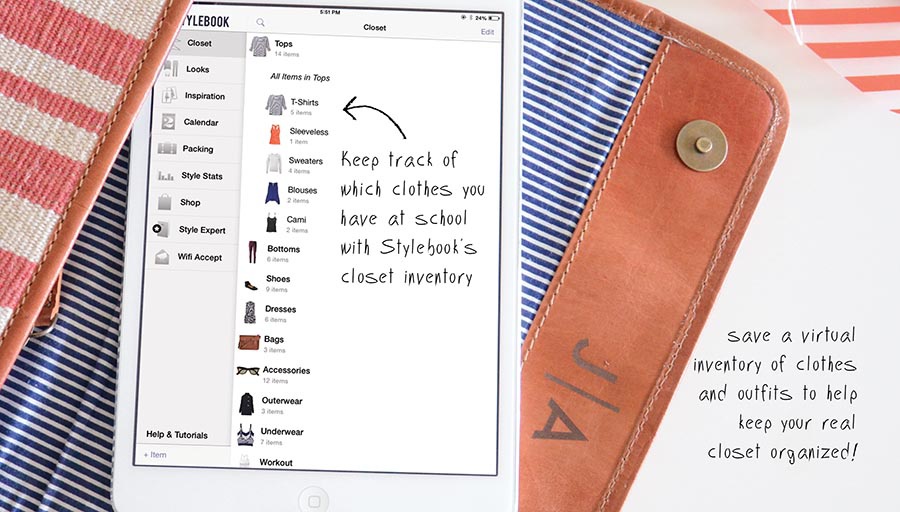 Lounge Clothes
If you're living in a dorm, there are going to be other people around all the time. So running around braless in old t-shirts from high school class trips isn't okay. Buy a couple of wireless bralettes, tapered sweatpants, a cute oversized sweater, and a few new t-shirts. Stretchy headbands and a pair of flip-flops come in handy too!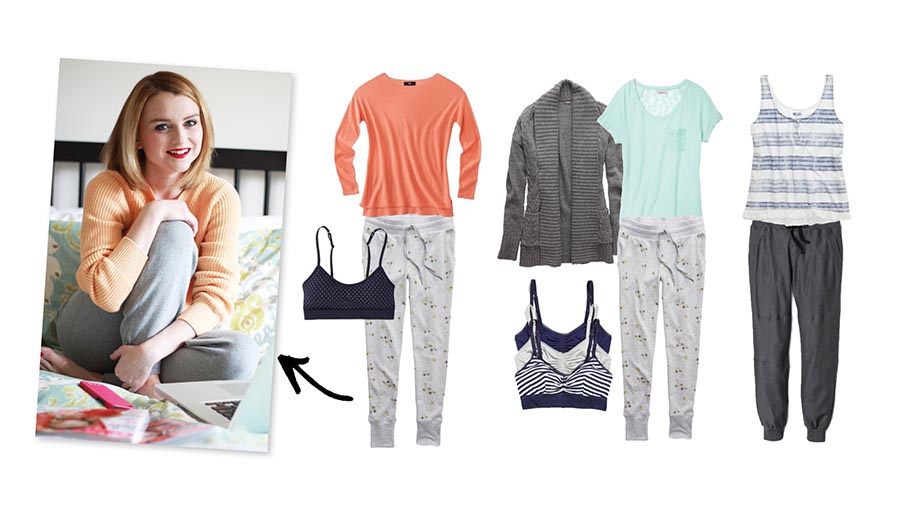 orange sweater, floral sweatpants, polka-dot bralette, cardigan, mint lace-back t-shirt, bralette, striped tank, tapered sweatpants Photo Credit: Poor Little It Girl
Undergarments
Now is a good time to refresh your underwear wardrobe as well. Before you buy any new bras, make sure you're buying the right size! Go get measured for your proper bra size - it's a free service at Victoria's Secret. You could also try True & Co, who will give you the right bra for your body based on a series of questions and measurements. My favorite bras for smaller cup sizes are Timpa Duet, Aerie and Natori.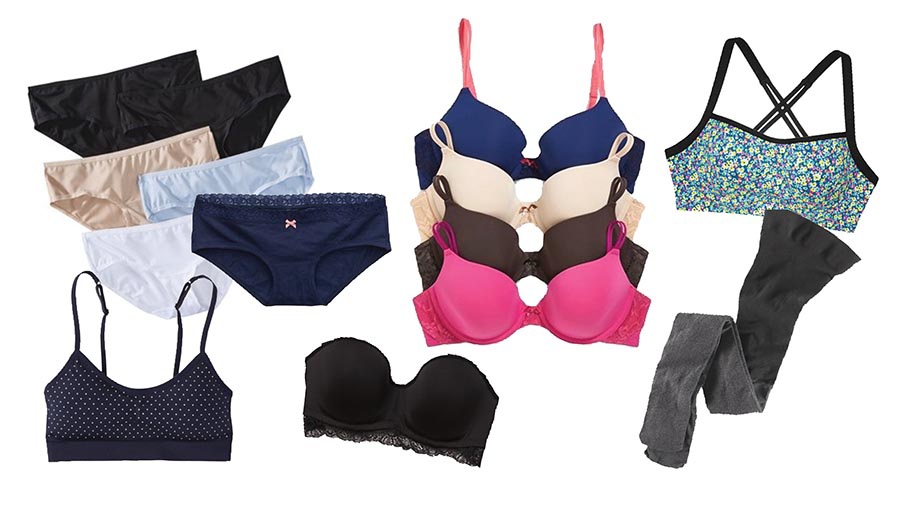 microfiber panties, lace trim panty, polka-dot bralette, strapless bra, t-shirt bra, opaque tights, floral sports bra
Underwear Wardrobe:
3 sports bras - The Angel by Victoria's Secret sport bra is the best for low-impact workouts
1 strapless bra - Good for under tank tops, dresses and costumes with thin straps
5 t-shirt bras - This is your everyday, go-to bra
5 wireless bralettes - Good for a little extra support / coverage while at the dorm
14 panties - Bring at least two weeks worth. The Fruit of the Loom microfiber hipsters from Target are the best. They're inexpensive, come in nice colors, they don't fade in the wash, and they're comfortable.
2 camis (black & nude) - Just in case some of your tops are a little more revealing than you planned
5 pairs of black opaque tights - These will keep you warm and help you wear dresses in the winter
Getting Ready For Class:
If your save your outfits in Stylebook, you know you'll be able to grab an outfit quickly but you still need a smart beauty plan. Chances are you'll be sharing a bathroom, either with your entire floor or at least with a roommate. Here is a quick, easy makeup routine that requires minimal mirror time!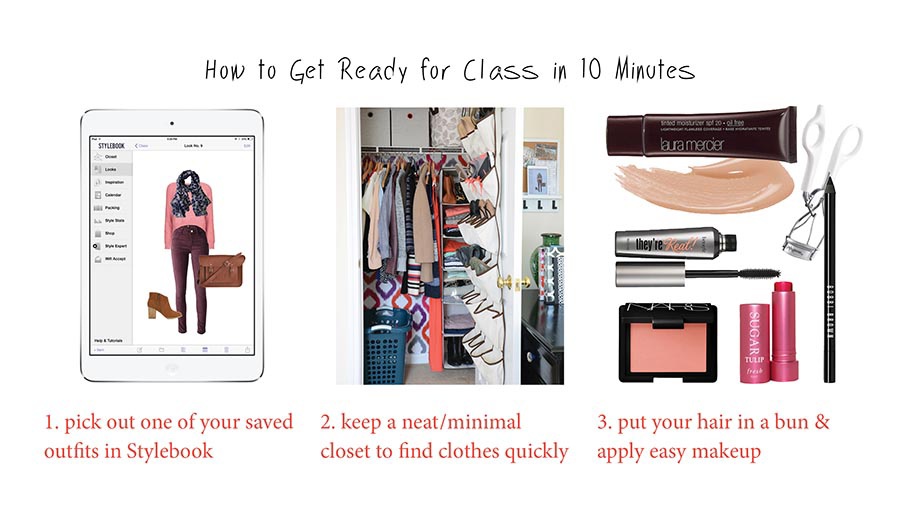 Stylebook Closet App , sunscreen, tinted moisturizer, mascara, blush, tinted lip balm, eyeliner, eyelash curler
5 Minute Makeup Routine:
Between studying, socializing, class, and sleep, you're going to be low on time, so here is a really quick and easy beauty routine. Go to Sephora for a free Color IQ scan to find the perfect shade of foundation or tinted moisturizer for the most natural look.
sunscreen, tinted moisturizer, mascara, blush, tinted lip balm, eyeliner, eyelash curler
Wash your face with a gentle cleanser. Then apply a moisturizer with sunscreen. Make sure to look for formulas that work well under makeup. Next apply tinted moisturizer, I love these because they are super easy and quick to apply. Line your upper lid, curl your lashes and apply a swipe of mascara. Tap blush on your cheeks and finish with a tinted lip balm. Fresh's moisturizing lip treatment is amazing because it provides bright, long-lasting color but is so forgiving you don't even need a mirror!
Here are my favorites:
Gentle Cleanser - Neutrogena Naturals
Sunscreen - Neutrogena Clear Face
Tinted Moisturizer - Laura Mercier
Eyeliner - MAC
Eyelash curler - L'Oreal
Mascara - Estee Lauder Definicil
Blush - NARS
Highlighter - Benefit Watt's Up (optional))
Tinted Lip balm - Fresh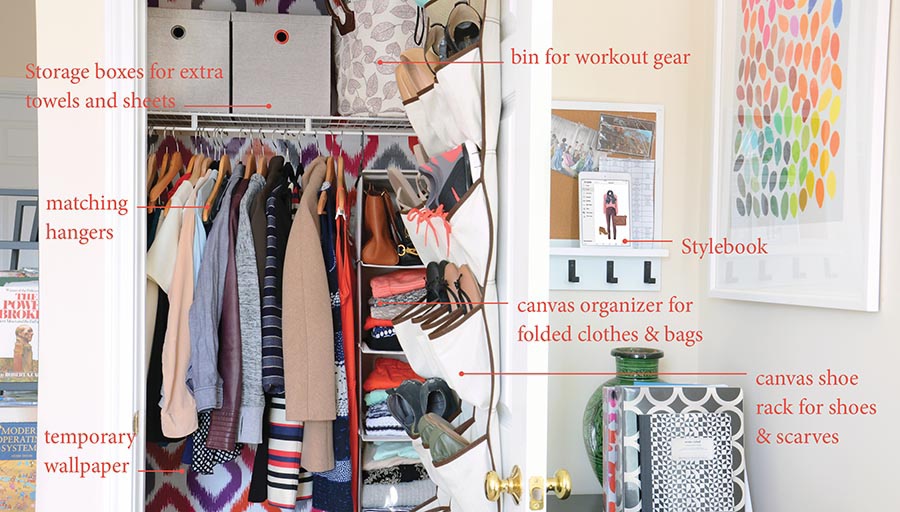 canvas sweater shelf, canvas shoe organizer, fabric boxes (similar), fabric bin (similar) , corkboard, print binder (similar)
Game Day
Pack a few items in one of your school's colors that you can wear on game day. It's a good idea to bring both casual and slightly more dressy options. For example, if you're headed to the arena to watch a basketball game with your friends, you may want to wear a t-shirt or tank with jeans. If you're going to a party to watch the game, you might want to wear a casual dress in your school's color.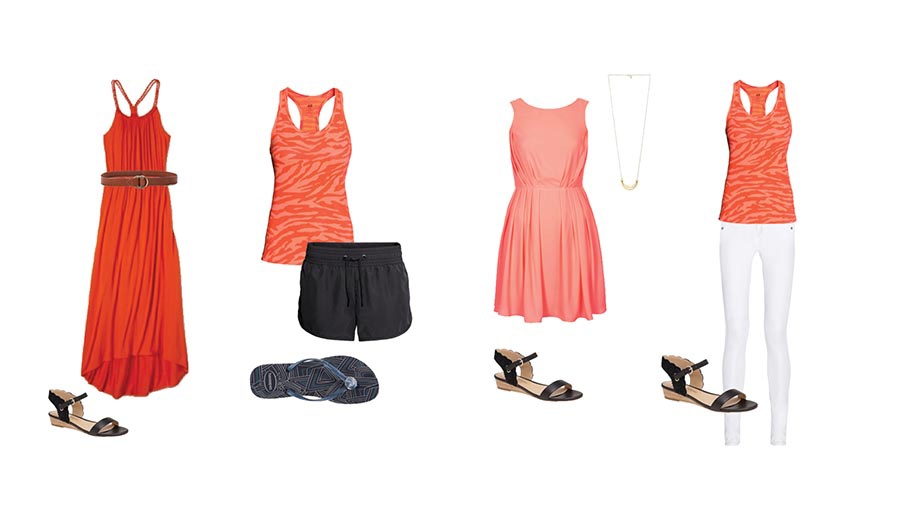 Stylebook Closet App , maxi, belt, strappy sandal, tiger stripe tank, drawstring shorts, flip-flop, orange dress, pendant necklace, white jeans
Parties and Going Out
Cocktail Dress - Bring one solid-color dress that will work for formal events and nice dinners with your family when they visit. I like a bright cocktail dress that you can wear with pumps or playful heels.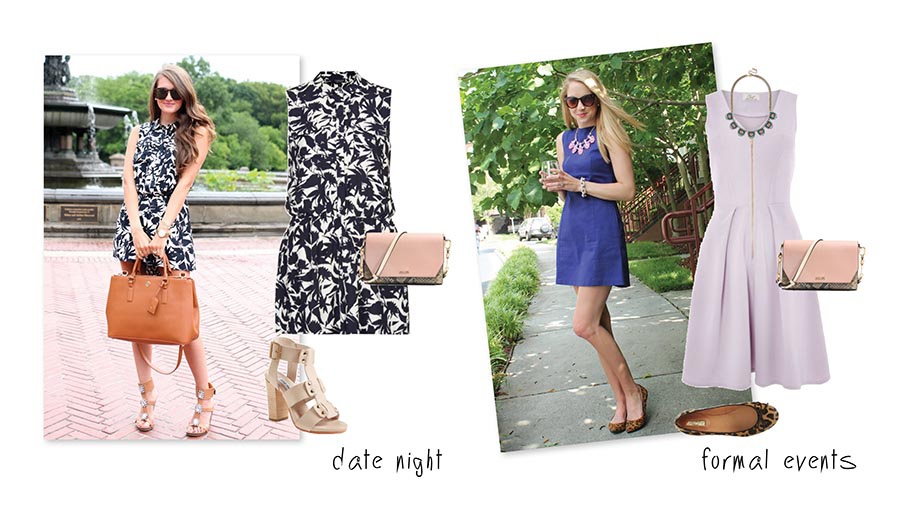 print romper, beige chunky sandal, pink and snakeskin clutch, statement necklace, purple dress, leopard ballet flats Photo Credit: Southern Curls and Pearls and Baubles & Bubbly
Flowy Tops - Bring at least two tops: one in black and one in a solid color. These are great for more casual parties if you pair them with dark or white jeans. You can also wear these under a cardigan with your tall boots for class.
Fun Dress or Romper - Choose a fun, printed option for girls' night out or a second date. Sure, the romper isn't for everyone, but if you can pull it off, definitely go for it. It's unique and is more playful than a regular party dress. Just make sure it fits properly!
Day Dress - Day dresses are awesome because, like the mini skirt, they are great for a BBQ or house party but also work for class when worn with tights and casual shoes.
Skirt - Pick a textured or patterned above-the-knee skirt that looks nice with a t-shirt or flowy tank. The key is to choose one that can go from day to night. Ideally, if you wear this same skirt with black tights, a sweater, and flat ankle boots, it will also make a good class outfit (but be careful that it's not too short).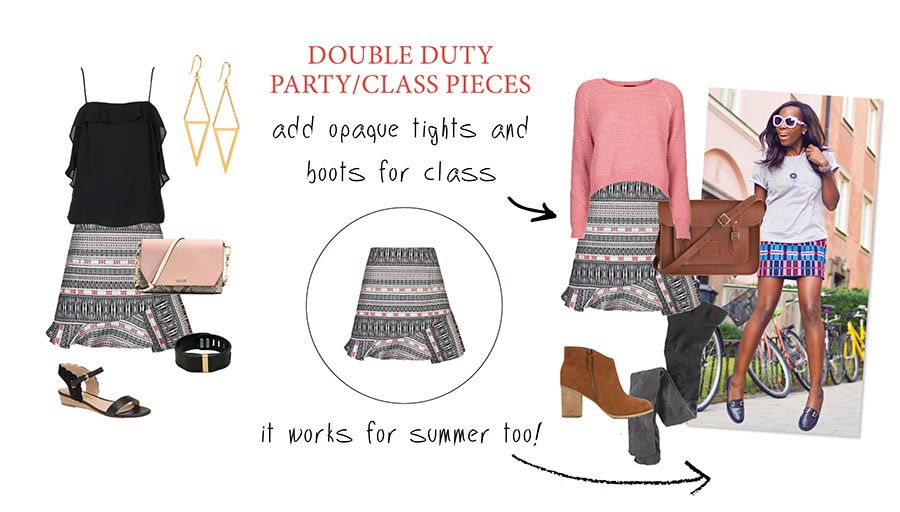 skirt, flowy tanks, earrings, DVB by Cuff, sandals, pink sweater, satchel, ankle boot, opaque tights Photo Credit: I Want You to Know
The Gym
Pack at least three workout outfits and a workout jacket so you can go to the gym three times a week without having to do laundry. If you choose your items carefully, you may even be able to use some of them for class. If you're into wearing comfy bottoms, try Athleta's City Pant, which actually is great outside of the gym as well. All of these items also come in handy if there is an outdoorsy trip, like hiking!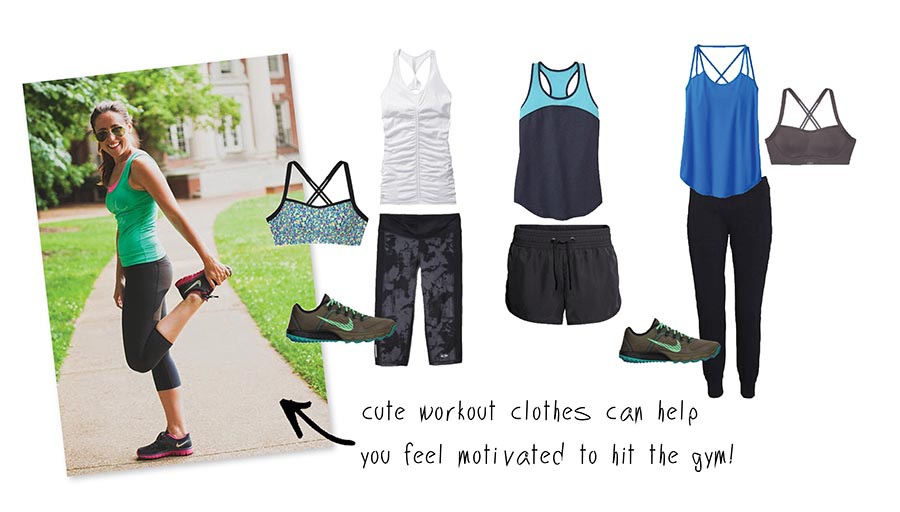 rouched tanks, print capri leggings, nike, floral sports bra, colorblock tank, drawstring shorts, blue tank, tapered sweatpants, grey sports bra Photo Credit: Alyssa Torrech via My Here and Now Life
Extras
Bathing Suit - The gym might have a pool or you may go on a beach trip or two with your friends!
Costume - If you have an old costume you like, bring it because there will probably be a Halloween party.
Spring Break
If you pack a bathing suit and choose workout shorts that can also be worn outside of the gym, you don't even have to go home to pack for a beach trip. Your day dresses, flowy tops, flat sandals, flip flops, cross-body bag, t-shirts, and a pair of jeans should be all you need!
Here are outfits for a six-day trip made from items already included in the checklist. You can also see Stylebook's packing list feature in action - this can come in handy to generate a packing checklist for the outfits you want to bring on your trip. For more information on packing with Stylebook, see our packing story.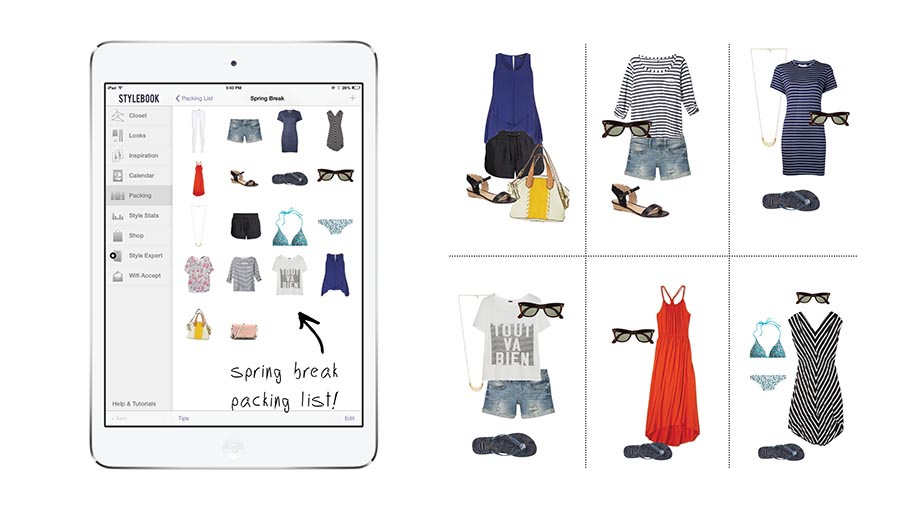 Stylebook Closet App , blue flowy tank, drawstring shorts, yellow bag, strappy sandal, striped t-shirt, denim shorts, sunglasses, striped t-shirt dress, long pendant necklace, flip-flop, graphic t-shirt, maxi dress, bikini top, bikini bottom, striped dress
What Clothes to Pack for College
T-Shirts (5)
neutral t-shirt
striped t-shirt
school color t-shirt
graphic t-shirt
print t-shirt
Tanks or Camis (5)
black simple flowy tank
solid color flowy tank
school color tank
black cami
nude cami
Sweaters (4)
fancy sweatshirt
textured sweater
marled neutral sweater
marled color sweater
Pants (5)
velvet pants
darkwash jeans
white jeans
faux leather leggings
shorts
Skirts (1)
textured mini
Dresses (6)
4 casual dresses
cocktail dress
fun day-to-night dress or romper
Outerwears (4)
casual jacket
vest
winter coat
workout jacket
Workout Clothes (7)
3 workout tanks
yoga pants
leggings
shorts
tapered sweatpants
Sleepwear (8)
cardigan
sweatshirt
pullover sweater
t-shirt
2 tank tops
tapered sweatpants
PJ bottoms
Jewelry (6)
pendant necklace
delicate necklace
statement necklace
stud earrings
drop earrings
bracelet
Scarves (3)
heavyweight inter-knit scarf
neutral gauze scarf
print gauze scarf
Bags (3)
small cross-body bag that is also a clutch
school bag
satchel bag
Shoes (9)
tall boots
ankle boots
black pumps
funky strappy heels
flip flops
dressy flat sandals
patterned ballet flats
plain ballet flats
cross-trainer sneakers
Accessories (2)
belt
sunglasses
Swimwear (6)
bikini
Underwear (33)
3 sports bras
strapless bra
5 t-shirt bras
5 wireless bralettes
14 panties
5 pairs of black opaque tights
NOTE: Posts in the Style Guides series include affiliate links to some of the products discussed. Stylebook receives compensation for purchases made through links to affiliates.
GET THE APP
Read More Style Guides